HK Gruber: into the open... premiere at BBC Proms
(October 2015)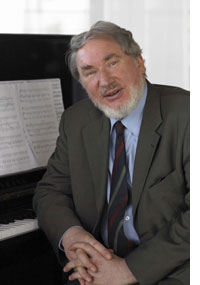 Colin Currie was soloist in HK Gruber's new work for percussion and orchestra, into the open..., premiered at the BBC Proms and travelling to the Wien Modern festival in November.
"HK Gruber has often composed music that is irreverent, provocative or plain eccentric, but his new percussion concerto, entitled into the open… is more serious stuff." So wrote The Guardian reviewing the work's premiere at the BBC Proms in July, going on to describe how "Gruber's friend, mentor and publisher David Drew died during its composition – and that context offered one way of making sense of the series of silences percussionist Colin Currie and the BBC Philharmonic threw out into the auditorium, in the closing minutes of this performance under conductor John Storgårds – as if, Gruber has said, a spirit were going out into open space."

"The first sounds were decidedly Oriental – the sort of brass you'd hear in Peking opera – and as the orchestra joined gently in you sensed how subtly calculated Gruber's soundworld was. Everything was done with a light touch in this 25-minute piece, which built via a series of slow burns to some exhilarating climaxes. Currie's personal orchestra included everything from marimba and vibraphone, tuned bells and gongs, to congas and a cajon box-drum which he slapped with his bare hands… The work's conclusion focused with lovely inventiveness on the beauty of decaying sound."
The Independent

"Beautiful beats with a hint of swing."
Evening Standard

Following its Proms premiere, Colin Currie takes into the open… to the Wien Modern festival in Gruber's home city, with a performance at the Konzerthaus on 15 November with the Vienna Symphony Orchestra conducted by Erik Nielsen.

Gruber's operatic version of Horváth's Tales from the Vienna Woods, successfully staged at the Bregenz Festival and Theater an der Wien, receives its German premiere next May in a new production at the Komische Oper in Berlin.
> Further information on Work: into the open ...
Photo: Lucerne Festival

Boosey & Hawkes Composer News