Hans Gál: Music Behind Barbed Wire
(April 2015)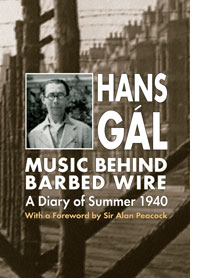 Escaping from wartime Vienna to the UK, composer Hans Gál found himself interred in camps for 'enemy aliens' as described in his diary Music Behind Barbed Wire, now published in a new English translation.
"A compelling read from start to finish." So wrote BBC Music Magazine reviewing the new translation of Hans Gál's diary of summer 1940 entitled Music Behind Barbed Wire (Toccata Press £29.95). Gál (1890-1987) sought refuge in Britain from Nazi Germany but found himself interred in camps by a panicky Churchill decreeing the arrest of recent emigrés as 'enemy aliens' because of the threat of German invasion. The composer was imprisoned not only with other Jewish musicians such as the eminent Schubert scholar Otto Erich Deutsch, composer Egon Wellesz and string players who were to form the Amadeus Quartet, but also with recently captured German soldiers who were Nazi sympathisers.

Classical Music describes how "his diary conveys the grim conditions of daily life and the muddled inefficiency of the camps… Written in a vivid and engaging style… an essential volume on this fascinating composer… Unreservedly recommended." In addition to the diary the volume includes an interview with the composer, a memoir by his daughter Eva Fox-Gál, and an article by historian Richard Dove. An accompanying CD includes performances of two works composed by Gál while in camps near Liverpool and on the Isle of Man: the Huyton Suite for flute and two violins, and songs for the satirical review What a Life.

Newfound interest in Hans Gál's music has resulted in a growing number of broadcasts and recordings including all four symphonies released on the Avie label. He was subject of BBC Radio 3's Composer of the Week last year, and his Scottish post-war connection (working as a lecturer at Edinburgh University) is increasingly celebrated, with recent performances by the BBC Scottish Symphony Orchestra. Queen's Hall plays host to a Gál programme of music for voices and strings on 7 June and a two day chamber music event is planned in Aberdeen next March. Vienna, the city of his youth and early career, presents a concert on 16 June in the series Echo des Unerhörten at the ORF Radio Café in honour of the composer's 125th birthday year. For full information visit www.hansgal.com.
> Further information on Work: Huyton Suite for flute and two violins

Boosey & Hawkes Composer News