Harrison Birtwistle: Tree of Strings reviewed
(September 2008)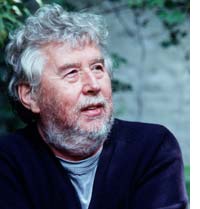 Harrison Birtwistle: Tree of Strings reviewed
Following its first performances at the Witten and Aldeburgh Festivals, Harrison Birtwistle's new Tree of Strings is being toured this autumn by the Arditti Quartet to Parma (5 October), the Venice Biennale (17 October), Wien Modern (28 October) and the Huddersfield Contemporary Music Festival (22 November).

The title is taken from a poem on 'music' by the Gaelic poet Sorley MacLean and the quartet explores memories – both personal and cultural – from Birtwistle's time on the island of Raasay in the 1970s:

"…on a lonely island off the west coast of Scotland to which he had withdrawn to compose, he discovered, probably because of earlier prohibitions, that no musical tradition had survived… Birtwistle doesn't attempt a reconstruction of something as it might have been, rather… [he dedicates] new music from the spirit of the present to the
de-musicalised land. The four members of the Arditti Quartet are sent on a voyage of discovery with great independence, they discover sound spaces, isolated movements, which diverge then again converge, and all leads to a densely-composed, concentrated form…a half hour of the art of the string quartet at its finest and greatest."
Neue Musikzeitung

"Beginning with barely audible, otherworldly flutings and tremolandos, and sounds produced with the stick of the bow, the work offers itself as an antenna picking up an island's subtlest signals. The level soon rises to fortissimo, but the sense of rarefied evocation prevails. The writing is unmistakably Birtwistle's, the latest, most supple development of an idiom that says so much with pulsing, block-like ostinato accompaniments and the dramatic contrast of strict group rhythm and untethered solo excursions."
Sunday Times

"There is an elemental beauty in the music that evokes enveloping mists and infinite skies, yet the sometimes austere nature belies its richness of metaphor. While the viola apparently instigates, it is the cello whose dark, baritone utterances most characterise the incisive writing and condition the emerging patterns. At the same time, it is impossible to ignore the theatricality of the setting: four empty chairs and music stands transcribe an arc well beyond the confines of the quartet's tight semi-circle."
The Guardian

Stageworks by Birtwistle are receiving Italian and German premieres this autumn, with
The Last Supper featured at the Settembre Musica festival in Turin and Milan in September and The Io Passion staged by the Berliner Kammeroper at the Konzerthaus (7-16 November). Birtwistle is currently working on a double-bill of music theatre works for two voices and ensemble for premiere next summer.
> Further information on Work: String Quartet: The Tree of Strings
Photo: Hanya Chlala/ArenaPAL

Boosey & Hawkes Composer News