Hawkes Pocket Scores: three new tote bags available
(October 2019)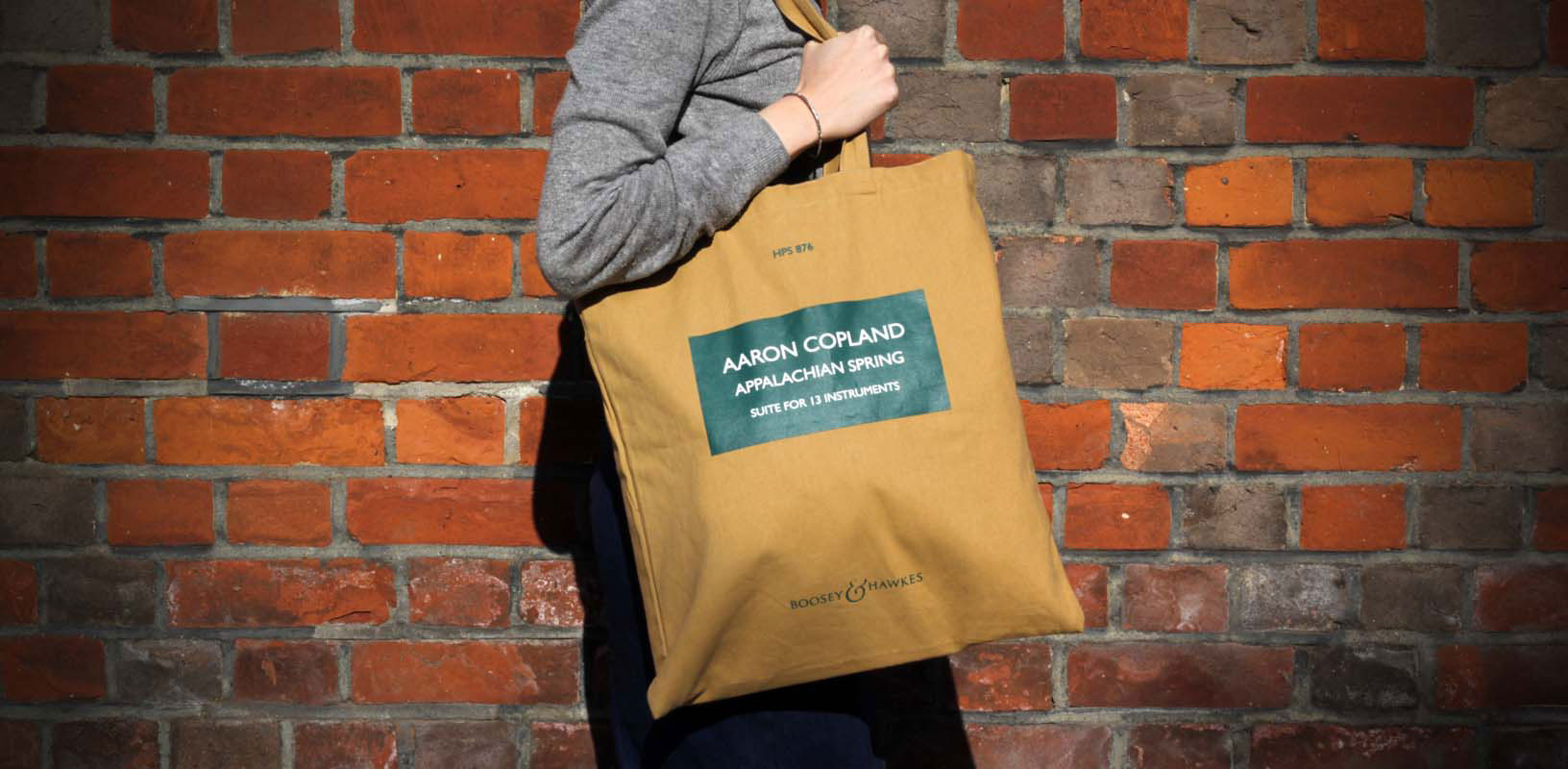 The range of tote bags celebrating 20th century works in the Hawkes Pocket Scores series has expanded with new designs featuring iconic scores by Copland, Prokofieff and Rachmaninoff.
Boosey & Hawkes is pleased to announce three new designs joining the successful range of reversible tote bags celebrating the Hawkes Pocket Scores series. The eco-friendly bags, ethically produced, were launched earlier this year and have proved popular with conductors, musicians, students and music-lovers alike.
Copland's Appalachian Spring, Prokofieff's Classical Symphony and Rachmaninoff's Piano Concerto No.2 have joined the best-selling Stravinsky, Bartók and Reich bags. The exterior adopts the iconic brown and green cover design, while the reversible interior carries a page from each score.
> Exclusively available from The Shop at Boosey.com
You are what you carry. The Hawkes Pocket Scores tote bags are ideal for carrying scores and books to your rehearsals and concerts. They are also ideal gifts for music-loving family and friends, and for conductors of your choirs and orchestras.
The Hawkes Pocket Scores, with their familiar brown and green covers, are beloved by musicians and enthusiasts everywhere and can be found in the libraries of composers, conductors, conservatoires, universities and orchestras throughout the world.
HPS tote bags now available:
Aaron Copland: Appalachian Spring     NEW
Sergei Prokofieff: Classical Symphony     NEW
Serge Rachmaninoff: Piano Concerto No.2     NEW
Béla Bartók: Concerto for Orchestra
Steve Reich: Music for 18 Musicians
Igor Stravinsky: The Rite of Spring
100% natural reversible canvas bag with cotton lining.
Alternate between the Hawkes Pocket Score cover and the first page of the score.
38cm (w) X 43cm (h) with 63cm canvas tape handles.
The bags are eco-friendly and ethically produced in India.
The Bags of Ethics™ label promotes the people and planet behind the product – the designers, farmers, tailors, consumers, and environment.

Boosey & Hawkes Composer News