Höhenflug für John Adams' Nixon in China
(March 2023)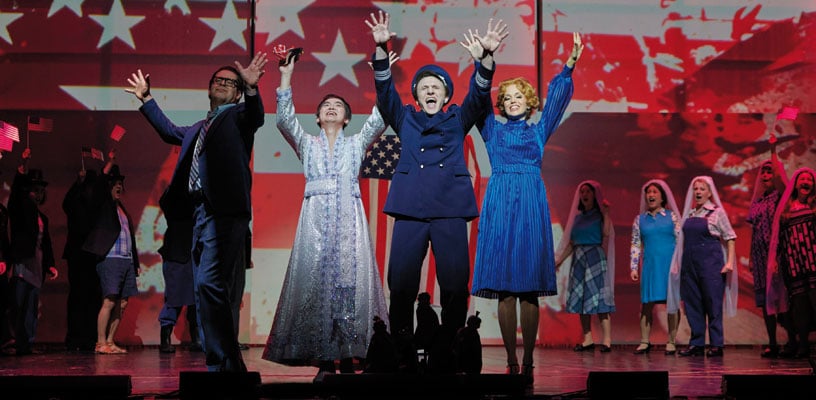 Die Oper über den historischen Besuch des US-Präsidenten 1972 bei Mao Tse-tung beweist ihre aktuelle Bedeutung: Nach jüngsten neuen Produktionen in Madrid und Paris steht sie auch in Deutschland derzeit gleich mehrfach auf den Spielplänen.
Mit seinen Polit-Opern schuf John Adams ein neues Genre, das "keine Umwege mehr machte" (so Wolfram Goertz in einem Rückblick 2022), also Zeitgeschehen nicht im historischen, allegorischen oder exotischen Gewand "über Bande" thematisierte. Bei den Uraufführungen polarisierten Form und Inhalt oder resultierten gar, wie im Fall von The Death of Klinghoffer, in erheblichen politischen Komplikationen. Heute haben diese Werke mit ihrer charakteristischen Stilistik und dank Adams' musikalischer Meisterschaft Klassikerstatus erlangt – im Abstand wird ihr Inhalt nun doch zur geschichtlichen Folie für die Gegenwart ...
Am Beginn stand Nixon in China, initiiert durch Peter Sellars und von diesem 1987 in Houston erstmals in Szene gesetzt. Die nicht unaufwändige Oper erlebt in jüngster Vergangenheit eine erstaunliche Serie von Neuproduktionen, angeregt durch den gegenwärtigen Machtzuwachs und die zunehmende mediale Präsenz von populistischen Politikern hier und von autokratischen Staatsführern dort. Zusätzlicher Anlass war der 50. Jahrestag von Richard Nixons historischem Besuch bei Mao Tse-tung im Februar 1972. Die passgenaue Terminierung mehrerer Opernpremieren wurde freilich durch die Corona-Pandemie vereitelt. Nun nachgeholt, treffen sie auf eine anders passende aktuelle Weltlage – "Xi zum Dritten" hat "America First" in den oberen Nachrichtenplätzen abgelöst.
International glänzen im Frühjahr 2023 die spanische Erstaufführung von Nixon in China am Madrider Teatro Real in der 2019/20 bereits erfolgreich in Kopenhagen und Glasgow gezeigten Inszenierung von John Fulljames, dirigiert von Ivor Bolton, sowie die erste Produktion des Stücks an der Opéra national de Paris, wo in der Regie von Valentina Carrasco und unter der musikalischen Leitung von Gustavo Dudamel das US-amerikanische Präsidentenpaar mit Thomas Hampson und Renée Fleming prominent besetzt ist. In Deutschland präsentierte im Februar die Oper Dortmund die erste von drei Spielzeitpremieren – Regisseur Martin G. Berger brachte das Publikum mit "seiner bilderprallen Inszenierung zum Staunen", befanden die Ruhr Nachrichten, und Olivia Lee-Gundermann mache "den Dreiakter am Pult der Dortmunder Philharmoniker zum Ereignis". Im Mai/Juni 2023 folgen das Theater Koblenz mit einer Neuinszierung von Markus Dietze unter der musikalischen Leitung von Markus Merkel sowie die Staatsoper Hannover – dort führt Daniel Kramer Regie, dirigieren wird Daniel Carter. Produktionen weiterer Häuser sind für die Spielzeit 2023/24 geplant.
John Adams:
Nixon in China
Oper in drei Akten (1987)
Libretto von Alice Goodman
Bis 02.05.2023 Teatro Real Madrid
Inszenierung: John Fulljames
Musikalische Leitung: Ivor Bolton
> zur Website
Bis 16.04.2023 Opéra national de Paris
Inszenierung: Valentina Carrasco
Musikalische Leitung: Gustavo Dudamel
> zur Website
Bis 29.03.2023 Theater Dortmund
Inszenierung: Martin G. Berger
Musikalische Leitung: Philipp Armbruster
> zur Website
Premiere: 19.05.2023 Theater Koblenz
Inszenierung: Markus Dietze
Musikalische Leitung: Markus Merkel
> zur Website
Premiere: 03.06.2023 Staatsoper Hannover
Inszenierung: Daniel Kramer
Musikalische Leitung: Daniel Carter
> zur Website
Nachtrag April 2023:
Die Deutsche Oper Berlin hat soeben ihren Premierenplan für die Spielzeit 2023/24 veröffentlicht. Am Haus kommt ab 22.06.2024 eine weitere Neuproduktion von Adams' Nixon in China in der künstlerischen Gestaltung des Kollektivs "Hauen und Stechen" heraus.
> zur Website
Szenenfoto: Morgan Moody (Kissinger), Daegyun Jeong (Chou), Petr Sokolov (Nixon) und Irina Simmes (Pat) in Dortmung; © Thomas Jauk

Boosey & Hawkes Composer News