Holloway in Flanders: Scenes from Antwerp premiere
(November 1998)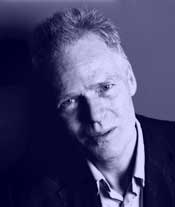 October brought the world premiere of Scenes from Antwerp, a substantial orchestral work providing the culmination of Robin Holloway's two-year residency with the Flanders Philharmonic Orchestra. The orchestra prepared the way towards the commissioned work with performances of the Romanza for Violin and Orchestra, Scenes from Schumann, Wagner Nights, Ode and the Serenata Notturna. The premiere of Scenes from Antwerp, conducted by Grant Llewellyn, took place on 9 October in the city which had provided the impetus for the work.



Holloway visited Antwerp a number of times to attend concerts, and the new score explores different aspects of the cityscape which he had observed, though it is not intended, as the composer writes, merely as "a picture-postcard of Antwerp, nor even an easel-painting: the sensory 'input' from the city - mainly visual, also of smell, sound, taste, touch - is infused with feelings and moods and the interplay of time and place..." The first section, streets, is fast and physical, reflecting the busy human activity undertaken and observed when walking about the city. This leads to a scherzino with trios, skies, as the eyes are raised from street-level up towards the clouds, with seagulls wheeling overhead. The two concluding sections are both slow: docks, which takes us to the harbour area alongside the sluggish river Scheldt, and as finale, domes, whose conclusion the composer views as a "metaphor for a stone or gilded dome rising proudly into a confident sky".

Overlapping with his residency with the Flanders Philharmonic, Holloway is currently Composer in Association with the Eastern Orchestral Board (UK) which has resulted in 15 performances of his works. Forthcoming premieres include a new Double Bass Concerto co-commissioned by the Scottish Chamber Orchestra, Northern Sinfonia and Sinfonia 21. The work has been written for Duncan McTier and the premiere in St Andrews on 10 March is to be conducted by Andrew Litton.
> Further information on Work: Scenes from Antwerp
Holloway Photo: © Hanya Chlala /ArenaPAL

Boosey & Hawkes Composer News