Holloway orchestrates Debussy for San Francisco
(June 2004)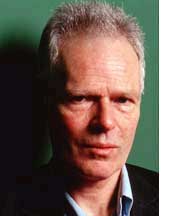 Robin Holloway's long-held fascination with the music of Debussy has borne further fruit in a new orchestration of En blanc et noir, originally a set of three pieces for two pianos.



The orchestration was premiered by the San Francisco Symphony under Michael Tilson Thomas in March, before embarking on a US tour to cities including Kansas City, Cleveland, New York and Philadelphia, with further performances planned for October. Both orchestra and conductor have forged close associations with Holloway, giving notable performances of his Clarissa Sequence, Third Concerto for Orchestra and Viola Concerto, with a Fourth Concerto commissioned for the 2005/06 season.

While it might seem ironic to colour an overtly black and white piano work, Holloway notes that Debussy described how "these pieces draw their colour, their emotion, simply from the piano, like the 'greys' of Velasquez". So the orchestration is intended by Holloway to be "an 'opening out' of the music's physical resonance, not à la manière de Debussy but as a homage and in the spirit of Debussy".

"Holloway's orchestration doesn't try to simulate the transparent palette that the French composer used so ravishingly. Instead, the soundscapes are packed densely with vibrant and suave instrumental incident." Cleveland Plain Dealer

"…a stunning orchestration by Robin Holloway." Philadelphia Enquirer

Other colourful orchestrations of French music by Holloway include a chamber orchestra-sized rescoring of Chabrier's Bourrée Fantasque created for the composer's centenary in 1994. It was Chabrier's affectionate transcriptions of Wagner's music that led Holloway to compose Wagner Nights, an orchestral fantasy on themes from Parsifal, full of Gallic charm, waltz rhythms and sumptious orchestration. Another central Romantic figure for Holloway is Schumann, whose songs are lovingly paraphrased in Scenes from Schumann while being stamped with Holloway's personal idiom.
> Further information on Work: En blanc et noir
Photo: ©Hanya Chlala/ArenaPAL

Boosey & Hawkes Composer News