Holloway: reviews of Fourth Concerto in San Francisco
(May 2007)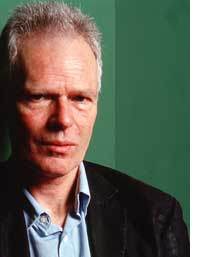 Robin Holloway scored a success in San Francisco in February with the premiere of his Fourth Concerto for Orchestra, described in the San Francisco Chronicle as "audio dynamite".



Michael Tilson Thomas and the San Francisco Symphony have done much to champion Holloway's music over the past decade, including commissioning his Clarissa Sequence and giving the US premieres of the Third Concerto for Orchestra and the Viola Concerto, and the new concerto proved to be another winning collaboration.

"This vastly ambitious and compelling essay, inspired by the medieval epic Piers Plowman, disdains narrative elements in favour of tracing a spiritual journey from the void to an apotheosis, with rest stops for sampling human foibles and frailties. In an era that smiles upon compression, Holloway fearlessly paints on an expansive orchestral canvas, one that he has suffused with myriad opportunities for sectional brilliance... No sensation of padding here: every cadence seems to open a portal to another eventful landscape and another challenge for the players." Financial Times

"A virtuoso showpiece... his command of the orchestra is astonishing... Holloway writes as though all the harmonic fluidity and orchestral virtuosity of Strauss, Mahler, Debussy and Rimsky-Korsakov were at his fingertips – as no doubt they are – and he uses those resources to craft a narrative journey that is endlessly compelling and always accessible... That journey is based on the medieval English epic Piers Plowman, but the plot is no more necessary for a listener's enjoyment than it is in the case of Strauss's literary tone poems... Holloway's dramatic skill and extravagant inventiveness are all that matters. The concerto grabs the listener right from the opening pages – a gloriously evocative 'once upon a time' with muted horn calls rising through the string-laden mists – and never lets go..." San Francisco Chronicle

 "...the Fourth Concerto for Orchestra may be the British composer's most ambitious, intricately structured work to date... Holloway, it seems, is less interested in painterly effects than sonic possibilities. Using clusters of instruments within each section – shimmering woodwinds, rumbling brass, crisp pizzicato strings – he evokes a marvellous sound world. Tilson Thomas conducted a dynamic, enveloping first performance." Contra Costa Times

The work was so "huge and splendiferous" (San Francisco Chronicle) that the orchestra had to, reluctantly, drop a movement to fit the work into the planned programme. As the reviewer wrote, "the Fourth Concerto is obviously a major addition to the orchestral repertoire, and one can only hope that the Symphony brings it back again soon, in full this time."

Holloway's Fourth Idyll, co-commissioned by the City of London Sinfonia, Vasteras Sinfonietta and Hong Kong Sinfonietta receives its first performance conducted by Richard Hickox in November, with performances in Sweden and Hong Kong following in 2008. A Holloway feature at the Three Choirs Festival in August includes the UK premiere by the Philharmonia Orchestra of his popular Debussy arrangement En blanc et noir, which has been performed in the USA, Spain, Italy and Greece to date.
> Further information on Work: Fourth Concerto for Orchestra
Photo: Hanya Chlala/ArenaPAL

Boosey & Hawkes Composer News