Im Interview: Mike Svoboda
(April 2022)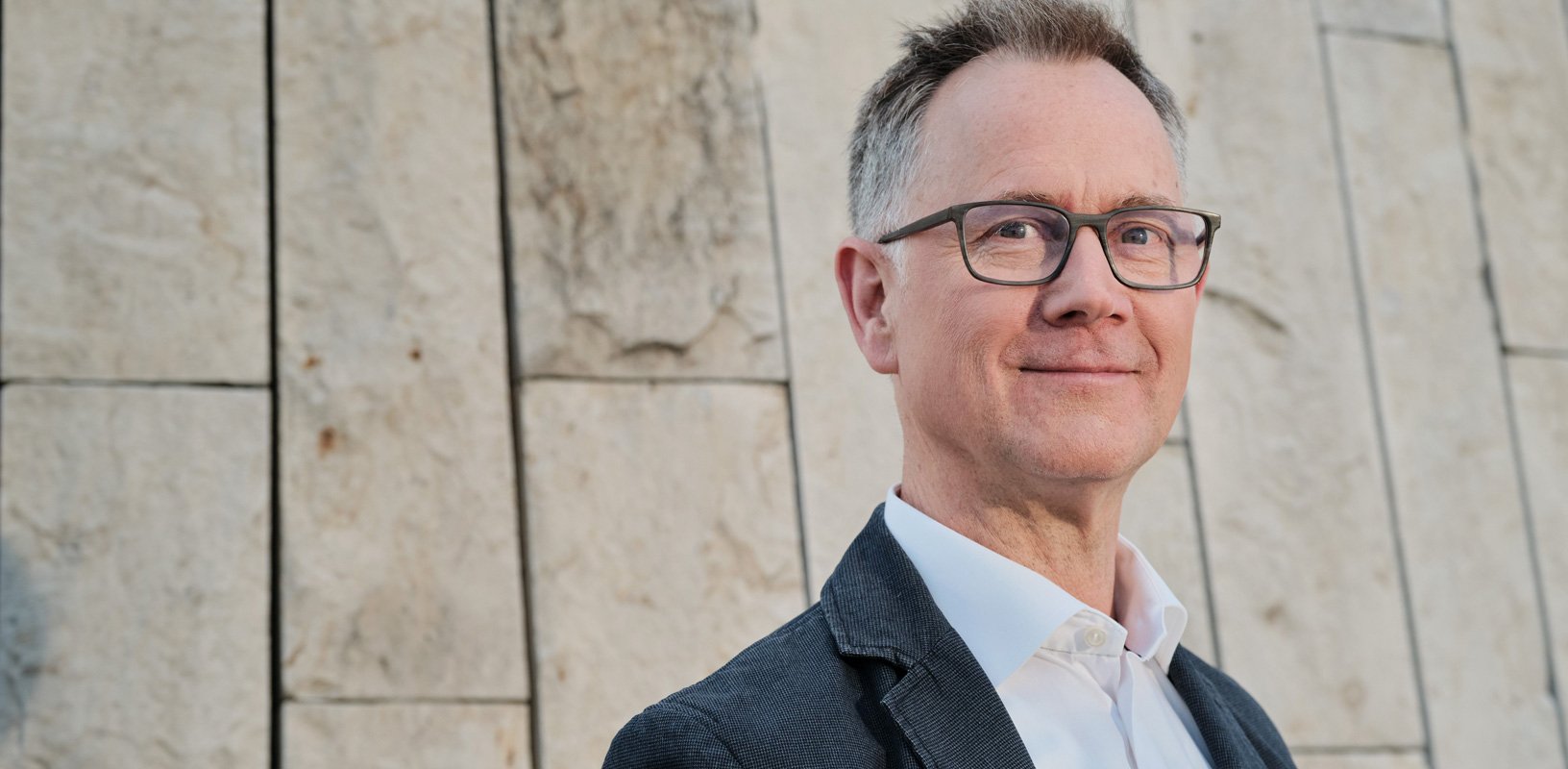 In seiner Vielfachbegabung als Posaunist, Komponist, Dirigent und auch Entertainer wirkt Mike Svoboda in der aktuellen Spielzeit als Residenz-Künstler bei der Neubrandenburger Philharmonie.
Nach Aufführungen weiterer eigener Werke wie Love Hurts – Carmen Remix und Homo Ludens steht am 5. Mai 2022 die deutsche Erstaufführung seines jüngsten Orchesterwerks Play unter der musikalischen Leitung Sebastian Tewinkel auf dem Programm. Im Juni folgen mehrere Aufführungen der Orchesterversion von Svobodas "musikalischer Weltreise mit 78 Umdrehungen", Once Around the World, samt Grammophon und Trickfilm.
Once Around the World war im März/April 2022 auch in Coburg und Bochum zu erleben. Im Februar brachte das Concept Store Quartet in Berlin die konzertanten Ensemblestücke Growth I & II zur Uraufführung, und die Deutsche Staatsphilharmonie Rheinland-Pfalz unter Mario Venzago hob Far from Home für vier Posaunen und Orchester aus der Taufe. Die Fülle der Ereignisse ist uns Anlass genug für ein Interview mit Mike Svoboda über seine Arbeit (Fragen: Jens Luckwaldt).


Du hast als Posaunist unzählige Werke anderer lebender Komponist*innen zur Aufführung gebracht – wie findet man da seine eigene Klangsprache?
Ja, das waren Hunderte von Uraufführungen und für mich sehr wertvolle Erfahrungen. Als ich 1982 mit dem Preisgeld eines Kompositionswettbewerbs nach Europa kam, fehlte wohl ein Posaunist, der gerne eng mit Komponistinnen und Komponisten zusammenarbeitet. Bei mir entstand wegen der vielen Engagements aber auch eine 18-jährige Kompositionspause. In dieser Zeit spielte ich nebenher auch viel in der freien Improvisationsszene und hielt dadurch eine Verbindung zu meiner eigenen Klangsprache. Als die Pause mit einem Kompositionsauftrag vom Staatstheater Hannover im Jahr 2000 zu Ende ging, war es deshalb kein so großes Problem, das Eigene wiederzufinden.
Beim Musizieren kämpft man gegen physische Grenzen und Tücken des Materials – bist du als Komponist eher fordernd oder eher rücksichtsvoll mit Deinen Interpret*innen?
Durch die eigene Bühnenerfahrung ist mir die Verantwortung, die die Ausführenden tragen, natürlich sehr bewusst. Deshalb will ich mit meiner Musik den Interpret*innen Raum bieten, mittels ihrer Virtuosität mit dem Publikum in Verbindung zu treten. Also schon fordern, aber mit einem Lächeln.
Play heißt eine deiner jüngsten Schöpfungen – welche Rolle spielt das Konzept des Spielerischen grundsätzlich für dein Komponieren?
Neben aller Vielschichtigkeit und Komplexität ist das Spielerische, oft mit einer Portion Ironie, bei mir unabdingbar. Meine Frau beschreibt meine Musik so: (krampfhaft gerufen) "Let's have fun!". Hmm ... Bei Play, einem energischen _orchestral opene_r, wirken Elemente aus Sport und Brettspielen mit. Beispielsweise gibt es mehrere mögliche Schlusspassagen – kurz bevor das Orchester in den Endspurt abbiegt, steht ein/e Streicher*in auf, hält eine Karte hoch und bestimmt spontan, welche Passage erklingt. Play beleuchtet auch die lebendige Interaktion unter den Musizierenden, deshalb spielen sie die ersten drei Minuten ohne Dirigat und reagieren direkt aufeinander.
Wie sieht dein bevorzugtes Setting beim Komponieren aus?
Ha, der workflow! Da gibt es drei Arbeitsschritte: die Konzeption, die Ausarbeitung und die post-production. Das Konzipieren, also nachspüren was das Material hergibt, was zum Kontext passt, aber vor allem, was ich eigentlich aussagen will, braucht manchmal Jahre. Glücklicherweise läuft das punktuell und parallel zum Alltäglichen, ob beim Straßenbahnfahren, Kinder Kutschieren oder Kochen. Das Ausarbeiten geht mit Bleistift auf Papier, in mindestens zweistündigen ungestörten Zeitfenstern, und vorzugsweise vor dem Familienfrühstück. Die post-production erfordert nicht die allerhöchste Konzentrationsstufe und kann im Zug oder in der Garderobe zwischen Probe und Konzert stattfinden. Dazu gehört, mit Ausführenden zu kommunizieren, Material zu korrigieren, Audio-Video-Bearbeitung, Vorworte erstellen etc. Uff, klingt doch mehr nach Arbeit als nach Spiel ...
Ein kommendes großes Projekt ist eine neue Oper – gibt es schon Musik, wie gehst du an die Komposition eines szenischen Werks heran?
Die Librettistin Anne-May Krüger war schon fleißig, und ich habe einen Text, zu dem ich mich verhalten kann. Da die Premiere erst in drei Jahren ist, darf ich also noch eine Weile beim Einkaufen und Kinderabholen darüber nachsinnieren, welche Mittel ich bräuchte, um die Aussage zu treffen. Adam und Eva, eine Komödie – das wird auch ein Spiel. Im Ernst.
*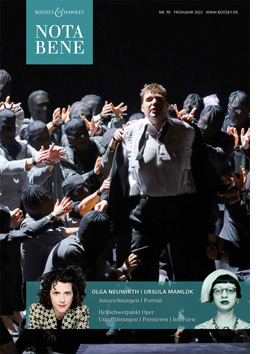 Das Interview mit Mike Svoboda erscheint in der Frühjahrsnummer unseres Verlagsmagazins nota bene.
Das Heft ist dem Schwerpunkt Oper gewidmet, unter anderem mit der Vorstellung neuer Werke von John Adams, Johannes Kalitzke und Manfred Trojahn, der Neufassung von Leonard Bernsteins A Quiet Place sowie aktueller Highlights rund um unsere Jacques-Offenbach-Edition OEK. Es enthält außerdem einen umfangreichen neuen Portrait-Artikel über Ursula Mamlok, aus Anlass ihres 100. Geburtstages 2023 verfasst von Habakuk Traber, und wir würdigen die aktuellen Auszeichnungen für Olga Neuwirth.
> Lesen Sie das Heft hier als PDF
 
> Further information on Performance: Play


Foto Mike Svoboda © Michael Fritschi @Foto-werk

Boosey & Hawkes Composer News