Iris ter Schiphorst: Assange fragments in Amsterdam
(January 2020)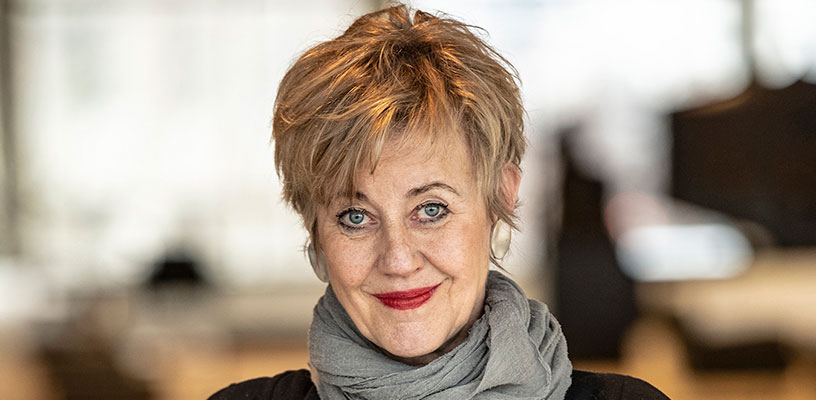 Assange - Fragments of an Un-time is Iris ter Schiphorst's new work for female voice, ensemble and sampler, exploring the crucial ongoing importance of press freedom.
Iris ter Schiphorst returned to the Dutch half of her roots for the premiere in Amsterdam of a new work jointly commissioned by Ensemble Modern and the Muziekgebouw. Assange – Fragments of an Un-time, scored for female voice, ensemble and sampler, illustrates the Berlin-based composer's highly personal approach to words and music, weaving interviews, speeches and internet footage into the ensemble soundscape, while liberating the extraordinary vocalist Sarah Maria Sun to express the moods of the texts.
The 20-minute work explores how urgent issues around the independence of the press and freedom of expression represented by WikiLeaks have been blurred by the controversy surrounding the personal history of Julian Assange. It follows other Ter Schiphorst works examining topical debates, such as the world after 9/11 in Zerstören II and the Western perception of the Middle East in The Imaginary of Lacan.
"The theatrically and vocally convincing Sarah Maria Sun ranged from erotic-frightened rhythmic groaning to whispering and hissing… not a single gesture was free of feelings of fear and suppression. With her immensely rich varied noises and sounds and her suggestive mimicry, Sun cast a spell over the audience."
Bachtrack
Following the premiere of Assange under the baton of Enno Poppe, Ensemble Modern plans German performances in a future season. Last November, the ensemble presented Iris ter Schiphorst's score for the Fall of the House of Usher, already heard in Zürich and New York. Stefan Asbury was on the Frankfurt podium accompanying the 1928 silent short film by James Sibley Watson and Melville Webber, notable for its experimental optics.
> Further information on Work: Assange - Fragmente einer Unzeit
Photo: Bettina Stoess

Boosey & Hawkes Composer News