Iris ter Schiphorst: Her Life and Music
(March 2020)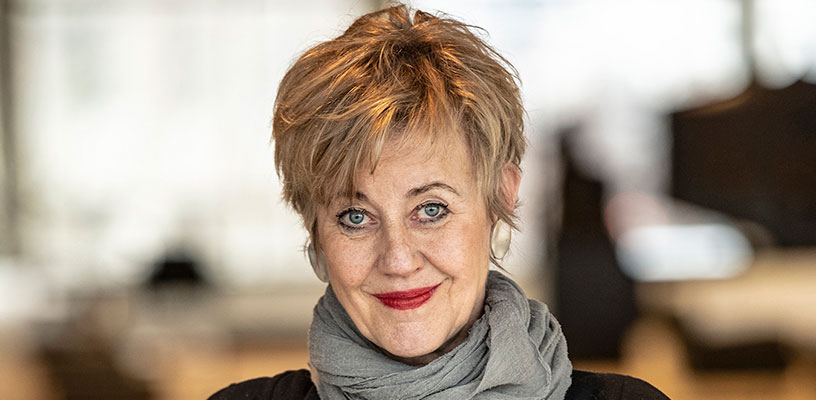 From classical pianist and pop instrumentalist to electronic music innovator, renowned composer Iris ter Schiphorst has had a wide-ranging career that has made her a legendary fixture of the adventurous contemporary music scene in Berlin. Part of a profile series throughout March—Women's History Month—in which we explore the lives, music, and inspirations of extraordinary composers from around the world.
"I've been thinking about the combination of music and physical expression for as long as I can remember. Physicality in communication is something that's very essential to me."
Iris ter Schiphorst
Her Career
Iris ter Schiphorst began her musical career as a classically trained pianist and later went on to become a bass player, drummer, keyboardist, and sound technician in a number of rock and pop groups. Studies in theater, cultural sciences, and philosophy in Berlin and seminars with Dieter Schnebel, Luigi Nono, and Helga de la Motte nurtured a wealth of ideas early in her career, and she soon forged a path of her own:
"All my compositions were born out of something 'practical,' out of a specific context: a) in that I wrote 'compositions' for rock bands I played in; b) through purchasing a multitrack tape device and experimenting with sounds I then transcribed; c) through creating my ensemble "intrors," which brought excellent musicians together."
Ter Schiphorst was able to develop and perform her compositions with her ensemble. One of her greatest successes came in 1997 with the "Blaue Brücke Preis" ["Blue Bridge Prize"] for her multimedia chamber opera Silence moves. With rising acclaim for her 3D opera Anna's Wake at the Berlin Ballhaus in 1993, ter Schiphorst soon established herself in the new music scene in Germany:
"I see the 2000 premiere of my orchestral work Ballade für Orchester: HUNDERT KOMMA NULL [Ballad for Orchestra: Hundred Point Zero] at the Munich Herkulessaal [Hercules Hall] as a breakthrough piece. The concert in the musica viva series was played by the Bavarian Radio Symphony Orchestra under the direction of Martyn Brabbins."
While occupying a prominent place in the avant-garde scene, ter Schiphorst has also reached a broader international audience, with performances at the BBC Proms, the Opernhaus Zürich [Zurich Opera House], and the Bavarian Radio Symphony Orchestra. She is also actively dedicated to bring composition to young students through several education projects such as the Landesjugendorchester Sachsen [State Youth Orchestra of Saxony], the National Youth Orchestra of Great Britain, and the Kölner Philharmonie. In 2015, she was appointed Professor of Media Composition at the Vienna University of Music and Performing Arts.
Her Voice
A highly conscious political observer, Iris ter Schiphorst is inspired by literature, philosophy, and current issues of contemporary history. Her musical influences span a broad stylistic spectrum of composers and performers: Laurie Anderson, Meredith Monk, Adriana Hölszky, Kate Bush, Kaija Saariaho, John Zorn, and David Bowie, as well as bands like Material, Defunkt, and Super Collider.
She describes her approach to seeking out themes for her compositions: "The first step is always a lengthy research phase during which I 'circle' a topic that interests me. For that, I read a lot and listen to a lot of music so that little by little, I can get to the heart of my real concern. From the beginning, socio-political issues were always relevant to me like in my Euridice chamber opera, which puts a different spin on the Orpheus myth. Another example would be the orchestral work Das Imaginäre nach Lacan [The Imaginary According to Lacan], which is about images that come to mind in perceiving the unfamiliar."
In 2019, Assange – Fragmente einer Unzeit [Assange – Fragments of Untimeliness] was created for Ensemble Modern and Salome Kammer regarding the threat to the individual and to freedom of press.
Her Collaborations
Iris ter Schiphorst collaborates with leading ensembles and interpreters of new music such as Ensemble Modern, Ensemble PHACE, the SWR Symphony Orchestra, and the Klangforum Wien. She also collaborates often with filmmakers and writers, resulting in several scores for (silent) films and other projects with writer Felicitas Hoppe. Ter Schiphorst's music is played at festivals in Donaueschingen, Witten, Stuttgart (ECLAT), Helsinki, Stockholm, Amsterdam, and Porto or at documenta in Kassel.
Iris ter Schiphorst has also been successful in the field of musical theater: Her children's opera Die Gänsemagd [The Goosemaid] was presented in Vienna and Zurich. Among other things, she has written stage plays for the Oper Bonn and Theater Basel in collaboration with Helmut Oehring.
In the coming months, there will be world premieres with the French vocal ensemble Musicatreize at the Donaueschinger Musiktage [Donaueschingen Music Days] and with Ensemble Resonanz and recorder player Jeremias Schwarzer.
"It's direttissima music, commanding, joyous, and morbid, without a trace of dead paper in any of the instrumental tricks or extravagances..."
Frankfurter Rundschau [Frankfurt Review]
Top tracks
• Ballad for Orchestra: HUNDRED POINT ZERO
LISTEN
• The Goosemaid
LISTEN
• Gravitational Waves for orchestra
LISTEN
• EVERYONE_ (with Uroš Rojko) for doublebass clarinet, orchestra, sampler and video
LISTEN
• … my non-songs / the purpose of music for voice and ensemble
LISTEN
• Out of love... II for string orchestra and solo violin
LISTEN
• Miniatures for clarinet and accordion
LISTEN
• Dislocations for orchestra
LISTEN
Photo: Bettina Stoess

Boosey & Hawkes Composer News