James MacMillan: 60th birthday events in 2019
(November 2018)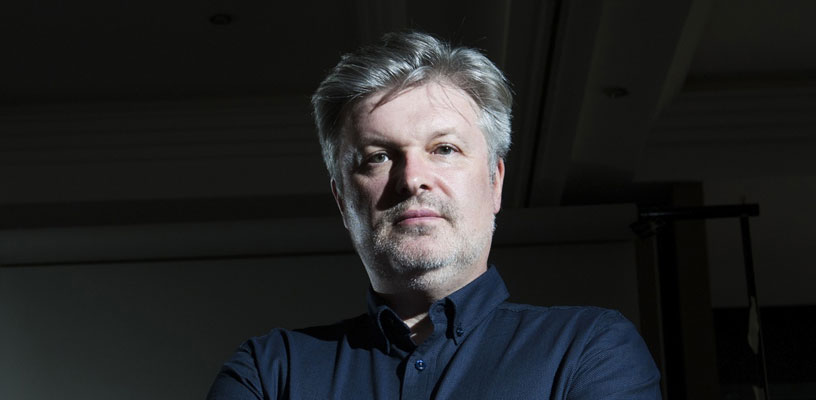 2019 sees the 60th birthday of composer James MacMillan and celebrations include international peformances, festival features and premieres of recent works.
James MacMillan's 60th birthday falls on 16 July 2019 and the year brings a busy diary of performances in Scotland and the UK together with international events. The BBC Scottish Symphony Orchestra launches birthday celebrations with the Scottish premiere of the Trombone Concerto in Glasgow on 17 January with the work's original soloist Jörgen van Rijen. The Scottish Chamber Orchestra and Chorus present a MacMillan 60th birthday programme in Edinburgh and Glasgow on 21/22 February with Seven Last Words and Veni, Veni, Emmanuel conducted by the composer with Colin Currie as percussionist. MacMillan's most performed work, Veni, Veni, Emmanuel, has received over 500 performances since its premiere in 1992.
Recent years have brought a collection of widely performed new MacMillan concertos. In addition to the Trombone Concerto and Percussion Concerto No.2, these include the Viola Concerto with performances by Lawrence Power in Gothenburg (16/17 January) and Mainz (1/2 February), the Saxophone Concerto receiving its Polish premiere with Lukasz Dyczko in Wroclaw (23 February) and Piano Concerto No.3 with Jean-Yves Thibaudet joining the Cleveland Orchestra (25/27 April) and Iceland Symphony (23 May).
MacMillan's music ranges from large-scale symphonic works to arrangements of Scottish folk music and both aspects of the composer's art are represented in 2019. His recent Symphony No.4 is performed by the BBC Philharmonic under Martyn Brabbins at Bridgewater Hall in Manchester on 2 May. The composer is currently completing a new symphonic work for premiere in 2019. His arrangement of traditional music from the Scottish island of Hirta, in the remote St Kilda archipelago, receives its first live performances from Britten Sinfonia in Norwich and Cambridge on 22 and 26 March. This music is familiar from the highly successful Decca recording, The Lost Songs of St Kilda, conducted by MacMillan (Decca 4812795).
Lent and Passiontide bring a wide range of performances of MacMillan's choral music including the Swedish premiere of Stabat Mater in Stockholm on 17 March and a pair of Seven Last Words on 19 April, in Leipzig with the Gewandhaus Choir and in London with Tenebrae and the Britten Sinfonia. The London performance is a highlight within St John's Smith Square's Holy Week festival feature on MacMillan curated by Nigel Short (15-20 April). This series is the most extensive survey of MacMillan's choral music in London during the 60th birthday year, with repertoire also including Miserere performed by the Marian Consort and the Choir of Clare College Cambridge, Tenebrae Responsories sung by Tenebrae under Nigel Short, Strathclyde Motets with Sansara, a Choral Sequence from St John Passion with the BBC Singers conducted by the composer, and MacMillan string chamber works played by the Brodsky Quartet.
A number of major MacMillan features at summer festivals will be announced in Spring 2019. The sixth edition of The Cumnock Tryst, the community-based music festival in the composer's native Ayrshire town of Cumnock, takes place as usual in October.
The Sixteen is touring MacMillan's music extensively in 2019 including Miserere, a selection of Strathclyde Motets and 27 performances of the new motet O Virgo prudentissima, commissioned by the Genesis Foundation, on its Choral Pilgrimage around the UK coupled with music from the Eton Choirbook. This substantial and richly voiced ten-minute motet has already been released on the Coro label conducted by Harry Christophers (COR 16166). Plans are also underway for the US premiere of MacMillan's Stabat Mater next autumn.
For a full list of MacMillan performances in 2019 visit our website.
> Further information on Work: Seven Last Words from the Cross
Photo: Richard Campbell

Boosey & Hawkes Composer News