James MacMillan: Padre Pio's Prayer
(December 2008)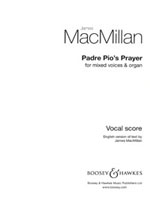 A new title for Mixed Voices and Organ.
Padre Pio's Prayer was commissioned by the Genesis Foundation and first performed by The Sixteen, conducted by Harry Christophers, in June 2008 at Westminster Cathedral, London, and recorded under the CORO label.

Padre Pio (1887-1968), in his lifetime a controversial and holy man, was canonised St. Pius of Pietrelcina in 2002. He is known unofficially as 'the patron saint of stress relief', in accord with his most famous dictum, 'Pray, hope and don't worry.'  James MacMillan's powerful version of his own English version of Pio's original Italian text, is set after Communion. The work is suitable for both service and concert use. For intermediate to advanced standard performers.
> Further information on Work: Padre Pio's Prayer
> Further information on Padre Pio's Prayer (SATB & Organ)

Boosey & Hawkes Composer News