James MacMillan: Piano Concerto No.3 UK premiere
(August 2013)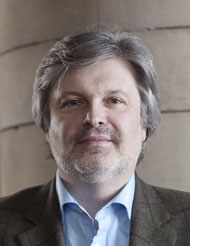 Jean-Yves Thibaudet is soloist in the UK premiere of James MacMillan's Piano Concerto No.3 in Edinburgh on 4 October, a homecoming for a new work that has already received 17 international performances.
James MacMillan's Piano Concerto No.3: The Mysteries of Light receives its first UK performances at the Usher Hall in Edinburgh and Glasgow Royal Concerto Hall on 4 and 5 October, with the Royal Scottish National Orchestra conducted by Peter Oundjian. Piano soloist is Jean-Yves Thibaudet who gave the concerto's world premiere with the Minnesota Orchestra in 2011. Since then he has been actively championing the work, with 17 performances in the USA, Germany and France.

Piano Concerto No.3 is a fusion of concerto and symphonic poem, with five distinct sections within the continuous 25-minute span. The subheading, Mysteries of Light, refers to the five Gospel events that provided musical starting points for the composer: the baptism in the River Jordan, the miracle in Cana, the proclamation of the kingdom of God, the Transfiguration, and the institution of the Eucharist. In the Catholic Rosary these are described as the Luminous Mysteries, and were a recent addition to the sequence of meditations made by Pope John Paul II in 2002.


In his programme note MacMillan draws parallels with the Mystery Sonatas by the 17th century composer Heinrich Biber, which are similarly structured around the Rosary sequence. He writes: "the music here is in no way geared towards liturgy, or devotional in any accepted, traditional sense. Rather, each image or event becomes the springboard for a subjective reflection, and proceeds in quasi-dramatic fashion, not too distant in concept from the musical tone poem". Luminosity is the thread that binds MacMillan's 'Mysteries' together, realised through the kaleidscopic colours of his piano writing and orchestration.

Conductor Peter Oundjian and soloist Jean-Yves Thibaudet are reunited next May for the Canadian premiere of MacMillan's concerto with the Toronto Symphony Orchestra. Later in the coming season the Royal Scottish National Orchestra performs a further MacMillan concerto, Ninian for clarinet and orchestra, conducted by Hannu Lintu with soloist John Cushing, who gave the work its premiere with the orchestra in 1997 (28 February in Edinburgh, 1 March in Glasgow).


MacMillan's most recent concertos explore a particularly rich expressive vein and have rapidly attracted performances at home and abroad. The Violin Concerto for Vadim Repin was televised from the BBC Proms this summer, the Oboe Concerto for Nicholas Daniel is entering the recording studio with the Britten Sinfonia, and MacMillan's new Viola Concerto is unveiled by Lawrence Power and the London Philharmonic Orchestra on 15 January, conducted by Vladimir Jurowski.
> Further information on Work: Piano Concerto No.3
Photo: Philip Gatward

Boosey & Hawkes Composer News