James MacMillan: Symphony No.4 premiere at BBC Proms
(October 2015)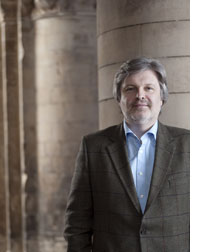 James MacMillan's newest orchestral work, the first to bear the title 'symphony' for over a decade, combines ritual drama with memories of Renaissance music. 
<DIR=LTR align="left">James MacMillan's Symphony No.4 is dedicated to Donald Runnicles in honour of his 60th birthday, and the conductor led the premiere performance with the BBC Scottish Symphony Orchestra at the BBC Proms on 3 August. Further appearances of the new symphony are planned stateside by fellow commissioners the Pittsburgh Symphony under Manfred Honeck and the Berkeley Symphony with Joana Carneiro. Whereas MacMillan's three earlier symphonies overtly employed programmatic elements, the new 37-minute work is more abstract and elusive in approach.

"In one continually evolving movement, the symphony teems with striking ideas, both musical and philosophical (or at least historical)… The symphony's overall message may be enigmatic, but its progression is crystal-clear. And my mind will long be haunted by many of its passages: the gushing fountains of polyphony for strings; the Messiaen-style woodwind refrains; the beautiful, folk-inflected viola solo that soars upwards like a Hebrides fiddler in high hills; and the feeling of an ancestral modal melody often overwhelmed but never extinguished."
The Times

"It is, as ever with MacMillan, a spiritual journey, in this instance governed by "ritual" in its various guises – "rituals of movement, exhortation, petition and joy". The musical ingredients are unmistakably his: plaintive melodies sculpted from the world of Gregorian chant, set against chattering counterpoints, densely aromatic string clusters, resplendent chorales and the mystical backdrop of quotations from Scots Renaissance composer Robert Carver's Missa Dum Sacrum Mysterium, played by back desk violas and cellos like a ghostly consort of viols."
The Scotsman

"…it was a powerful sense of the fragility of memory, and of time passing, which emerged most clearly. Melodies - including some soulful passages on the violas which conjured up Carver's ancient masses - materialised from the orchestral margins only to fade again like half-forgotten tunes."
Daily Telegraph

"…rhythmic exuberance… passionate, arresting music."
Financial Times

As well as the usual BBC Proms broadcast on Radio 3, the premiere of Symphony No.4 was featured in a BBC TV series on the symphony, hosted by Mark Elder, who discussed the new work with the composer before a complete telecast.

MacMillan's Woman of the Apocalypse, part tone poem, part Concerto for Orchestra, receives performances in London and Berlin this December, with its UK premiere at the Barbican by the BBC Symphony Orchestra under Marin Alsop who conducted the work's world premiere in 2012, and a performance at the Philharmonie in Berlin by the Deutsches Symphonie-Orchester and Manfred Honeck. The half-hour score is inspired by how artists through the ages, including Dürer, Rubens, Doré and Blake, have depicted the sun-clad woman who battles the dragon in the Book of Revelation.



> Further information on Work: Symphony No.4
Photo: Philip Gatward

Boosey & Hawkes Composer News