James MacMillan interview on Percussion Concerto No.2
(October 2014)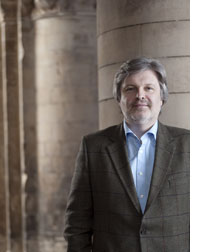 James MacMillan returns with a new percussion concerto, over 20 years after composing Veni, Veni, Emmanuel, the most performed work in the genre.
When you now conduct Veni, Veni, Emmanuel, how do you view the piece and its success?
I remember the composition of Veni, Veni, Emmanuel, early in my career in 1992, being a very big thing. The percussion concerto was a new genre and composers in the 1980s and '90s knew it had enormous potential. So, working closely with Evelyn Glennie, there was a certain responsibility to succeed and we felt as if we were pioneering. The fact that the concerto then travelled internationally with players like Evelyn and Colin Currie has allowed my music to cross many frontiers in a way I could never have foreseen. When I hear young players performing it in competitions today it still astonishes me – they have an amazing ability to tackle a piece which seemed so complicated to me in the 1990s.

You've seen the world's greatest percussionists playing your music: what is distinctive about Colin Currie?
I've had the privilege to conduct a range of different percussionists and have observed how each brings different qualities to the same music. If I had to characterise Colin's approach it would be a combination of accuracy and sensitivity that generates real emotion. I've also seen him perform works by other composers and play instruments I hadn't used in my first concerto, so this opened up possibilities for a new concerto.

What are the differences in your second concerto?
Although my first concerto has been regularly played by symphony orchestras, it was originally composed for chamber orchestra, so for the new piece I've enjoyed the scope of full forces and the wider range of colours. Here there are two orchestral percussionists, so this offers possibilities of some interesting interplay – for instance in the opening section they play marimba alongside the soloist, creating a meta-marimba of three players. You could view both concertos adopting a tri-partite fast-slow-fast form, but in the new work the middle section evolves into the final Presto through a series of transitions.

With such a range of instruments at your disposal, how did you finalise the line-up for the soloist?
You have to be selective so, apart from marimba and some drums, I homed in on metal percussion for this concerto. This still allowed a lot of variety and the journey between untuned and tuned metal became very important. Colin also introduced me to a recent instrument, the aluphone, that wasn't around in the 1990s. It is a metallophone which combines the sounds of vibraphone and bells.

Do you sense that exotic instruments carry a cultural aura?
Some non-Western instruments do carry strong connections with their geographic origins, and their use in that society, for instance steel drums, mallet percussion, tuned gongs or bells. However you have to beware of creating a travelogue. Rather, I have a particular sound in mind, and I look for the instrument best equipped to create it, whatever its origins.

How does percussion's emphasis on rhythm dictate the material as a whole?
Inevitably rhythm is important, such as in the opening section, but I've also looked for lyricism. I've explored using the steel drum melodically in the slow section which, with piano and harp, is much more chamber-like and far removed from driving pulse. Working with metal instruments I was also interested in creating a clangorous sheen, almost like a halo, out of which the final chorale could emerge.

Does the soloist's movement on stage play a theatrical part: from meditative stillness to physical athleticism?
Percussion concertos are always a visual spectacle for the audience and in Veni, Veni, Emmanuel the stations of different types of instruments were part of the stage plan and the shape of the piece. I'm not sure yet how Colin plans to lay out the new concerto. I imagine he will be spread across the front of the orchestra, but I've used fewer instruments this time, so it may be less of a physical workout for the soloist running across the stage.

Taking your music as a whole, how would you sum up your relationship with percussion?
I've always loved the sonorities of percussion and continue to be impressed with the range of possible colours. I've learnt a lot from the players I've worked with. They've always been patient explaining how the instruments can be played against type, producing delicate and light sonorities, and how they can be expressive. The creation of gamelan-like sounds from combining percussion with keyboards and harp has caught my ear, and I'm very happy to explore this further in my next orchestral works.

Interviewed by David Allenby


MacMillan
Percussion Concerto No.2  (2014) 25'


All performances with Colin Currie as soloist


7 November 2014 (world premiere)
TivoliVredenburg, Utrecht
Netherlands Radio Philharmonic/ James Gaffigan


11 December 2014 (UK premiere)
Royal Festival Hall, London
Philharmonia Orchestra/Santtu-Matias Rouvali


19 December 2014 (French premiere)
Halle aux Grains, Toulouse
Orchestre National du Capitole de Toulouse/Tugan Sokhiev


Performances follow in 2015/16 with Marin Alsop conducting the Cabrillo Festival Orchestra, Baltimore Symphony Orchestra and São Paulo Symphony Orchestra.
> Further information on Work: Percussion Concerto No.2
Photo: Philip Gatward

Boosey & Hawkes Composer News