James MacMillan: reviews of Piano Concerto No.3
(June 2011)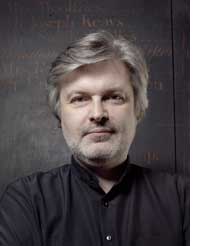 James MacMillan's new Piano Concerto No.3 was premiered in Minneapolis by Jean-Yves Thibaudet in April, and Vadim Repin gave the US premiere of the Violin Concerto in Philadelphia in March.
James MacMillan's music has been prominent in the USA in recent months with the world premiere of his new Piano Concerto No.3 in Minneapolis, the first North American performance of his Violin Concerto in Philadelphia, and a feature at Carnegie Hall in New York. Next season brings orchestral performances in Baltimore and Saint Paul, and plans are underway for the US premiere of his one-act opera Clemency in Boston.

The New York Times, observing this renewed surge of American activity, summed up MacMillan as
"a creator who replaced modernist aridity with communicative directness. His initial promise has been borne out since in a diverse body of substantial works — including multiple symphonies, concertos and operas — through which he has grappled fruitfully with the contrasting tugs of modernity and history, Celtic folk traditions and Roman Catholic convictions."

MacMillan's Piano Concerto No.3 was commissioned by Osmo Vänskä and the Minnesota Orchestra and premiered on 14 April by Jean-Yves Thibaudet. The work travels to the Cabrillo Music Festival on
5 August and plans are underway for further performances by Thibaudet in the USA and Europe. The 25-minute concerto bears the subtitle The Mysteries of Light but, as ever with MacMillan, the meditative roots of inspiration are transformed into a vibrant, dramatic landscape, described by the Star Tribune's reviewer as "turbulent, incantory and, at moments, luminous... a wild ride, overflowing with colour and incident".

"...there's no doubt that MacMillan knows his way around an orchestra. His score is a cascade of instrumental coloration. There were times, for instance, when the performance shimmered in a tingling shower of ethereal voices... the piano's voice is often eerily doubled by chimes, vibraphone or other instruments, creating a sonority that is at times tingling. In all, it's a masterfully challenging piece for performers and listeners." Saint Paul Pioneer Press

Charles Dutoit conducted the first American performances of the Violin Concerto in Philadelphia and at Carnegie Hall in New York in March, with Vadim Repin as the virtuosic soloist. The New York Times described how the concerto combines archetypal song and dance sources with the traditional three-movement format: "A crackling opening movement is followed with a more lyrical section and a finale filled with exuberant display. The solo part's torrential flurries and sweetly spun melodies are custom fitted to a virtuoso like Mr. Repin... Mr. MacMillan's estimable mastery of orchestral timbre and effect is evident throughout."

Further performances of the Violin Concerto with Vadim Repin follow in Montpellier in July, and in Valladolid, Paris, Metz and Amsterdam during the 2011/12 season.
> Further information on Work: Piano Concerto No.3
Photo: Philip Gatward

Boosey & Hawkes Composer News