James MacMillan: reviews of new Oboe Concerto
(January 2011)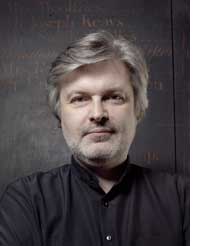 James MacMillan's new Oboe Concerto for Nicholas Daniel, toured in October, adds an exciting work to the sparse repertoire for the instrument.
"Wonderfully virtuosic, superbly crafted for both solo instrument and orchestra, and with enough enigmas and sardonic outbursts to keep posterity guessing, James MacMillan's new Oboe Concerto is a corker…" So wrote The Times of the premiere, heard on tour in October with the Britten Sinfonia under the baton of the composer. The concerto was commissioned by Britten Sinfonia and Town Hall, Birmingham and written for Nicholas Daniel and, as the review noted, "whether any other oboist will be able to play it is neither here nor there. Daniel will just have to keep on performing it until the rest of his profession catches up."

"The Oboe Concerto starts with deceptive exuberance: after a syncopated minimalist riff in the violas, the oboe is off on a wild dance that manages to veer from exotic arabesques to a lush, even romantic lyricism without breaking stride. With the slow middle movement that jauntiness evaporates. A slow, sombre chorale underpins intricate polyphonies woven by the oboe and other woodwinds. But then there are brash intrusions, as if from a more brutish world. And the mood of the finale — brittle, even vaudeville-like, with honking barnyard calls and crazy trills and passagework — seems like an enforced rapport with that other world."
The Times

"The oboe's voice can be easily subsumed into the orchestral texture, but MacMillan negotiated this potential hazard extremely successfully, keeping the accompaniment transparent in the solo sections. The concerto has a lyrical character, combined with a dancing energy in the outer movements that suits the solo instrument… The slow movement contains some of the best music, particularly a beautifully written duet for the soloist and the orchestral clarinet."
The Guardian

"In the opening Marcato e ritmico, Daniel burst forth as if detonated, with powerful chromatic flurries and a propulsive amalgam of martial and Gaelic energy… The finale, harsh, joky and elegiac, had the virtuosic Daniel forcing all his power and might through that tiny reed fit to burst. MacMillan's concerto offers a fiery addition to the solo oboe's confined repertoire."
The Observer

MacMillan's recent concertos continue to attract international attention. Vadim Repin has confirmed dates performing the Violin Concerto in Philadelphia and New York in April, Montpellier in July and Amsterdam in April 2012. Piano Concerto No.3 'Mysteries of Light' is unveiled by soloist Jean-Yves Thibaudet on 14 April in Minneapolis with the Minnesota Orchestra under Osmo Vänskä, with plans underway for the European premiere this summer.

Other MacMillan highlights in coming months include premieres of Seraph for trumpet and strings with Alison Balsom and the Scottish Ensemble at the Wigmore Hall on 17 February, and of his new one-act opera Clemency at The Royal Opera's Linbury Theatre on 6 May with libretto by Michael Symmons Roberts and staging by Katie Mitchell.

> Further information on Work: Oboe Concerto
Photo: Philip Gatward

Boosey & Hawkes Composer News