James MacMillan's Piano Concerto No. 3 Travels Across the US
(May 2013)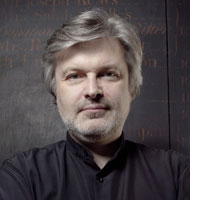 Pianist Jean-Yves Thibaudet brings the composer's work to multiple US cities
Internationally renowned pianist Jean-Yves Thibaudet is set to bring James MacMillan's Piano Concerto No. 3 back to the US with performances in Nashville, Atlanta, and Indianapolis. From May 2–4, Thibaudet and the Nashville Symphony Orchestra under the baton of Giancarlo Guerrero will present the piece at the Schermerhorn Symphony Center in Nashville. Thibaudet then moves on to perform the work in Atlanta with Robert Spano and the Atlanta Symphony Orchestra from May 30–June 2. He then performs in Indianapolis with Krzysztof Urbanski and the Indianapolis Symphony Orchestra from June 7–8. The work was commissioned by Osmo Vänskä and the Minnesota Orchestra on the occasion of the Orchestra's centennial. Thibaudet gave the premiere at Orchestra Hall in Minneapolis in April 2011.

Entitled "The Mysteries of Light," MacMillan's Piano Concerto No. 3 "attempts to revive the ancient practice of writing music based on the structure of the Rosary." The concerto is broken up into five sections based on a set of meditations introduced to the Rosary in 2002 by John Paul II—the Luminous Mysteries:

Baptisma Iesu Christi
Miraculum in Cana
Proclamatio Regni Dei
Transfiguratio Domini Nostri
Institutio Eucharistiae
MacMillan explains: "…the music here is in no way geared towards liturgy, or devotional in any accepted, traditional sense. Rather, each image or event becomes the springboard for a subjective reflection, and proceeds in quasi-dramatic fashion, not too distant in concept from the musical tone poem. The fusion of symphonic poem with concerto forms has long been a favourite pursuit of mine in earlier works."
Of this work, the
St. Paul Pioneer Press
commented, "[MacMillan's] score is a cascade of instrumental coloration. There were times, for instance, when the performance shimmered in a tingling shower of ethereal voices… the piano's voice is often eerily doubled by chimes, vibraphone or other instruments, creating a sonority that is at times tingling. In all, it's a masterfully challenging piece for performers and listeners."
The Royal Scottish National Orchestra under the baton of Peter Oundjian will give the UK premiere of "The Mysteries of Light" in October 2013.
> Further information on Work: Piano Concerto No.3
Photo: Philip Gatward

Boosey & Hawkes Composer News