Jenkins' 60th birthday performance of "The Armed Man"
(April 2004)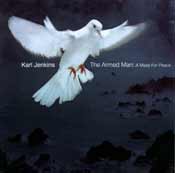 Karl Jenkins conducts "The Armed Man: A Mass For Peace" and "Adiemus Live!" for 60th birthday
To celebrate his 60th birthday, Karl Jenkins, one of the UK's most successful composers, will conduct his chart-topping opus The Armed Man: A Mass For Peace, for the first time in London. The concert with the London Philharmonic Orchestra takes place at The Royal Festival Hall on Saturday May 1st 2004 at 7.30pm, and will also feature a selection of the best loved moments from his hugely popular Adiemus projects, including a première public performance of extracts from the latest album "Vocalise".






SPECIAL 20% DISCOUNT CONCESSION FOR SCHOOL GROUPS - telephone The Royal Festival Hall box office on 020 7960 4242.



The Armed Man: A Mass For Peace has become one of the most frequently requested pieces of music by a living composer on Classic FM over the last year. The CD, on EMI Classics label, went straight to Number 1 in the UK Classic Top Ten charts when it was released, and spent over 30 weeks last year in the Top 10.


The Armed Man: A Mass For Peace confronts the brutality of recent wars and global conflicts, and also includes a wide range of literary sources and musical influences: from the Latin Mass and The Koran to Tennyson and Swift; and from Islamic and Gregorian chanting to Mozart and Walton. The work was commissioned by the Royal Armouries to mark the millennium, and it takes its title from a late medieval song "The Armed Man Must Be Feared" (which many composers from the 15th-17th centuries used as a foundation for their musical settings of the Latin Mass).


The sensational young Welsh harpist, Catrin Finch, appointed Royal Harpist by HRH The Prince of Wales in 2000, will also appear that evening performing music from her recent album together with a movement from "Tros y Garreg", which was specially commissioned by Prince Charles and written and produced for her by Jenkins.


Jenkins, recently awarded a Fellowship at the Royal Academy of Music and a "Red f" award from Classic FM for his "outstanding service to classical music", is the biggest-selling UK composer alive and consistently one of only two living composers to be voted into the Classic Hall of Fame. He is universally recognised and critically acclaimed for his noted Adiemus and The Armed Man works, and the albums have all found enormous success worldwide, achieving silver, gold and platinum awards.
> Further information on Performance: The Armed Man: A Mass for Peace (full orchestra version)
> Further information on Work: The Armed Man: A Mass for Peace (full orchestra version)

Boosey & Hawkes Composer News