Jenkins: US Euphonium Concerto Premiere
(March 2010)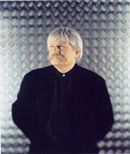 Jenkins: US Euphonium Concerto Premiere
"I think people too readily put music into compartments… I have never been bothered by barriers in music."
-Karl Jenkins

Throughout his career, Karl Jenkins has championed a genre-defying philosophy: from traditional concert hall performances to commercial album releases, he has consistently redefined the role of classical music in contemporary life.

On Saturday, March 6 New York audiences will have the chance to hear this approach in action as Jenkins's Euphonium Concerto receives its US premiere at Carnegie Hall. Taking an instrument rarely associated with symphony orchestras, Jenkins redefines this traditional role by bringing the bulky brass center stage. Commissioned by Euphonium Foundation UK and premiered in July, 2009 by the BBC Concert Orchestra, Euphonium Concerto was written for David Childs, a euphoniumist who founded the foundation to expand the current range and scope of the instrument's repertoire.

Childs describes: "Finding major composers willing to write for the instrument is the challenge. Karl's work is very listenable, very virtuosic… I'm sure it will appeal to a broad musical population, which is the audience I'm trying to reach."
 
Childs will be making his New York debut in this performance with Jenkins as guest conductor. Also on the program presented by Distinguished Concerts International New York (DCINY) are selections from Sacred Songs (2008)—Ave Verum and Benedictus— and Palladio I: Allegretto (1995).  Ave Verum is from Stabat Mater, a 13th-century Roman Catholic poem attributed to Jacopone da Todi that describes the suffering of Mary during Jesus Christ's crucifixion.  Also based on medieval religious tradition is Benedictus from The Armed Man: A Mass for Peace, the most recent mass set on the 15th century French song L'homme arme. Palladio was inspired by Renaissance architect Andrea Palladio and similarly celebrates harmony and order. Both works will be conducted by Jonathan Griffith.

Looking ahead, Jenkins's Gloria will be premiered by Really Big Chorus at Royal Albert Hall in London on July 11, and Stella Natalis and Joy to the World (as heard on EMI) will soon be published. 

Photo Credit: Mitch Jenkins

Boosey & Hawkes Composer News