John Adams: European premiere of Girls of the Golden West
(February 2019)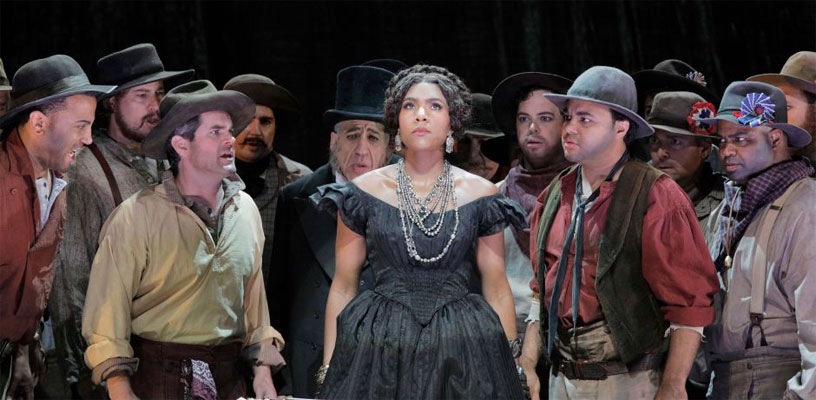 John Adams's Gold Rush opera, Girls of the Golden West, is staged in Europe for the first time by Dutch National Opera in Amsterdam, opening on 28 February.
Peter Sellars's production of John Adams's opera Girls of the Golden West receives its first European staging this spring, with seven performances at Dutch National Opera (28 February – 17 March). Premiered in San Francisco in 2017, the opera is presented in Amsterdam in a revised musical version, with the original cast joined by the Rotterdam Philharmonic conducted by Grant Gershon. Leading young singers, acclaimed for their performances in San Francisco, include Julia Bullock, Davóne Tines, J'Nai Bridges and Paul Appleby. The production at Dutch National Opera is part of the Opera Forward Festival.
Set against the backdrop of Gold Rush-era California, the opera follows the strong-minded Dame Shirley who shows us the harsh, masculine world of the Wild West through the eyes of a woman. Director and librettist Peter Sellars drew on authentic sources such as letters, newspaper articles and memoires in constructing an opera that explores one of American history's darker periods.
Visit the Dutch National Opera website
John Adams described the origins of the opera and its contemporary resonances: "the California Gold Rush is very close to home for me. I knew the background history and I knew the exact terrain where it all happened as I've had a cabin in the Californian Sierras for 40 years. The subject also seemed to chime with what is now going on in our country. I became aware of how many social and historical parallels exist between the get-rich-quick mood of the Gold Rush and our current mad obsession with wealth and material acquisition. The premiere in San Francisco took place only a few miles from Silicon Valley, where extravagant fortunes and hyperbolic overvaluation are a way of life."
"There were very few women active during the Gold Rush and they lived extremely hard lives. It takes a stretch of the imagination to understand how crude and miserable it had to be for a woman to survive in a tent through a mountain winter with only onions and potatoes to eat, no conveniences like plumbing or medical care, with no legitimate law and order, and with drunken, often violent men threatening unpredictable behaviour. These women had to be incredibly brave and determined. 'Dame Shirley', wrote a series of marvellously descriptive letters over a period of eighteen months. She witnessed just about everything you could imagine, and her writing is so vivid and witty that I could set it to music without altering barely a word."
7 March brings the world premiere of John Adams's new piano concerto Must the Devil Have All the Good Tunes?, composed for soloist Yuja Wang and the Los Angeles Philharmonic. The work was commissioned for the orchestra's centenary season and the premiere at Walt Disney Hall under the baton of Gustavo Dudamel is followed by tours to East Asia, the UK and Mexico. John Adams conducts further performances in 2020 with Jeremy Denk in the US and with Víkingur Ólafsson in Europe.
> Further information on Work: Girls of the Golden West
Photo: Girls of the Golden West in the Peter Sellars production

Boosey & Hawkes Composer News