John Adams Receives 2009 NEA Opera Honor
(April 2009)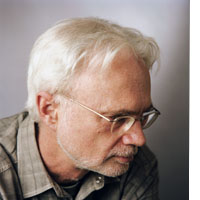 John Adams Receives 2009 NEA (National Endowment for the Arts) Opera Honor.

John Adams is the recipient of the 2009 NEA Opera Honor for composition, noted as a luminary who has made extraordinary contributions to opera in the United States. This marks Adams's second major honor in the world of opera this season---in November he was the first composer to receive an OPERA NEWS Award.

Now in its second year, the NEA Opera Honors is the highest award the U.S. bestows in opera. (The inaugural recipient of the award---in 2008---was Carlisle Floyd.) This year's class is noteworthy not only for their individual accomplishments but for the very American course of their careers. Adams is joined by stage director and librettist Frank Corsaro, mezzo-soprano Marilyn Horne, general director Lotfi Mansouri, and conductor Julius Rudel.

NEA Acting Chairman Patrice Walker Powell said, "These artists have garnered international prominence through their many and notable accomplishments at our country's flagship opera companies. Their influences have been profound and their connections to American music, stories, and even political figures have enriched the music world. We salute their achievements."

NEA Opera Honors recipients are nominated by the public and chosen by an NEA-convened panel of opera experts.  When the program debuted last year, these were the first new NEA awards in 25 years to celebrate lifetime achievement and individual excellence. In addition to an awards program in Washington, DC at the Harman Center for the Arts on November 14, 2009, the designation includes a one-time grant award of $25,000.  OPERA America will work again with the NEA to manage the initiative, and the Washington National Opera will serve as a planning and production partner.

Future performances and recent recordings of Adams's stage repertoire:

Adams will bring his latest opera, A Flowering Tree (2006), to Los Angeles for two performances with the Los Angeles Philharmonic and soloists Jessica Rivera and Russell Thomas (May 15, 17). Later this summer Adams will be Artist-in-Residence at Lincoln Center's Mostly Mozart Festival, conducting a number of his works, including the New York premiere of A Flowering Tree (August 13, 14, 16). Both of these productions will be directed by Peter Sellars.

Sellars will direct the Metropolitan Opera premiere of Adams's first opera, Nixon in China (1987), in 2010-11. Vancouver Opera will present the Canadian premiere of Nixon in China in March 2010 as part of its 50th anniversary season, with a new production directed by Toronto-based stage director Michael Cavanagh. In 2009 Michael Christie will lead the Phoenix Symphony and Chorus in arias from the opera next fall (November 12,14). A month later, Adams will conduct the Orchestra of St. Luke's and the Westminster Symphonic Choir in one performance of El Niño (1999-2000) at Carnegie Hall (December 13, 2009).

Last September Nonesuch Records released the premiere CD recording of A Flowering Tree, with the composer leading the London Symphony Orchestra and Venezuela's Schola Cantorum Caracas, directed by Maria Guinand. 

              Click here to purchase A Flowering Tree on CD.

A DVD recording of Doctor Atomic (2005) is now available on the Opus Arte label (distributed by Naxos in North America). This original production is directed by the work's librettist and Adams's long-time collaborator, Peter Sellars. Conductor Lawrence Renes leads the Netherlands Opera Chorus and the Netherlands Philharmonic Orchestra.

               Click here to purchase Doctor Atomic on DVD.

Additional stage works by Adams are The Death of Klinghoffer (1990), and I Was Looking at the Ceiling and Then I Saw the Sky (1995).
Photo credit: Margaretta Mitchell

Boosey & Hawkes Composer News