Jory Vinikour Records World Premiere Release of Ned Rorem's Concertino da Camera
(July 2019)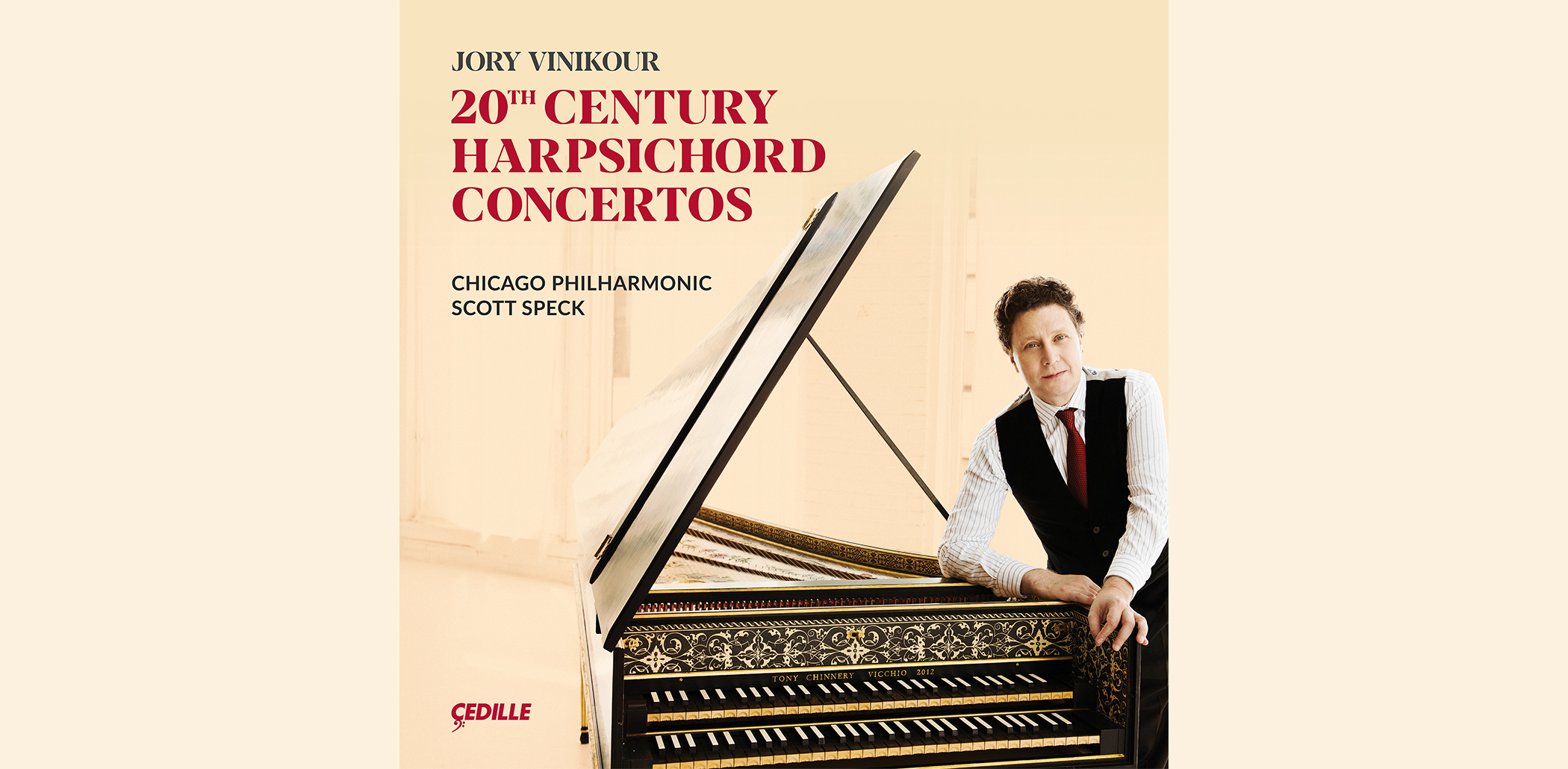 Harpsichordist Jory Vinikour joins the Chicago Philharmonic and Scott Speck to record the world-premiere release of Ned Rorem's Concertino Da Camera. Cedille Records releases the album on June 14.
Ned Rorem's Concertino Da Camera, his 1946 work for harpsichord soloist and seven instruments, receives its first-ever recording by renowned harpsichordist Jory Vinikour and the Chicago Philharmonic, conducted by Scott Speck. The work headlines the album 20th Century Harpsichord Concertos, released by Cedille Records on June 14.
After listening to the Concertino da Camera from the new album, Rorem wrote: "I was moved on hearing the piece—for the first time! Thank you to Jory Vinikour for this perfect recording."
Other works on the album include three other rarely recorded concertos: English composer Walter Leigh's Concertino for Harpsichord and Strings (1934), Czech composer Viktor Kalabis's Concerto for Harpsichord and Strings (1975), and contemporary English composer Michael Nyman's Concerto for Amplified Harpsichord (1995).
Rorem's Concertino da Camera, written at age 23, is scored for harpsichord and a small ensemble of mixed solo strings and winds: flute, oboe, bassoon, cornet, violin, viola, and cello. It features a solo cornet, "perfectly juxtaposed against the virtuosic keyboard part," Vinikour writes. "From this performer's viewpoint, Rorem's great fluency in keyboard writing, as well has his distinctive harmonic language with its use of gently extended tonality, are already very much in evidence."
The Concertino da Camera received its world premiere in 1993 with the University of Minnesota chamber ensemble conducted by Alexander Platt, on a concert celebrating Rorem's 70th birthday. It was broadcast on American public radio.
Vinikour has also recorded Rorem's Spiders (1968) for solo harpsichord on Toccatas, his Grammy-nominated 2013 album of American 20th-century harpsichord music on Sono Luminus.
> Further information on Work: Concertino da Camera
Photo: Cedille Records

Boosey & Hawkes Composer News