Karl Jenkins: 5000 singers in Global Armed Man event
(September 2020)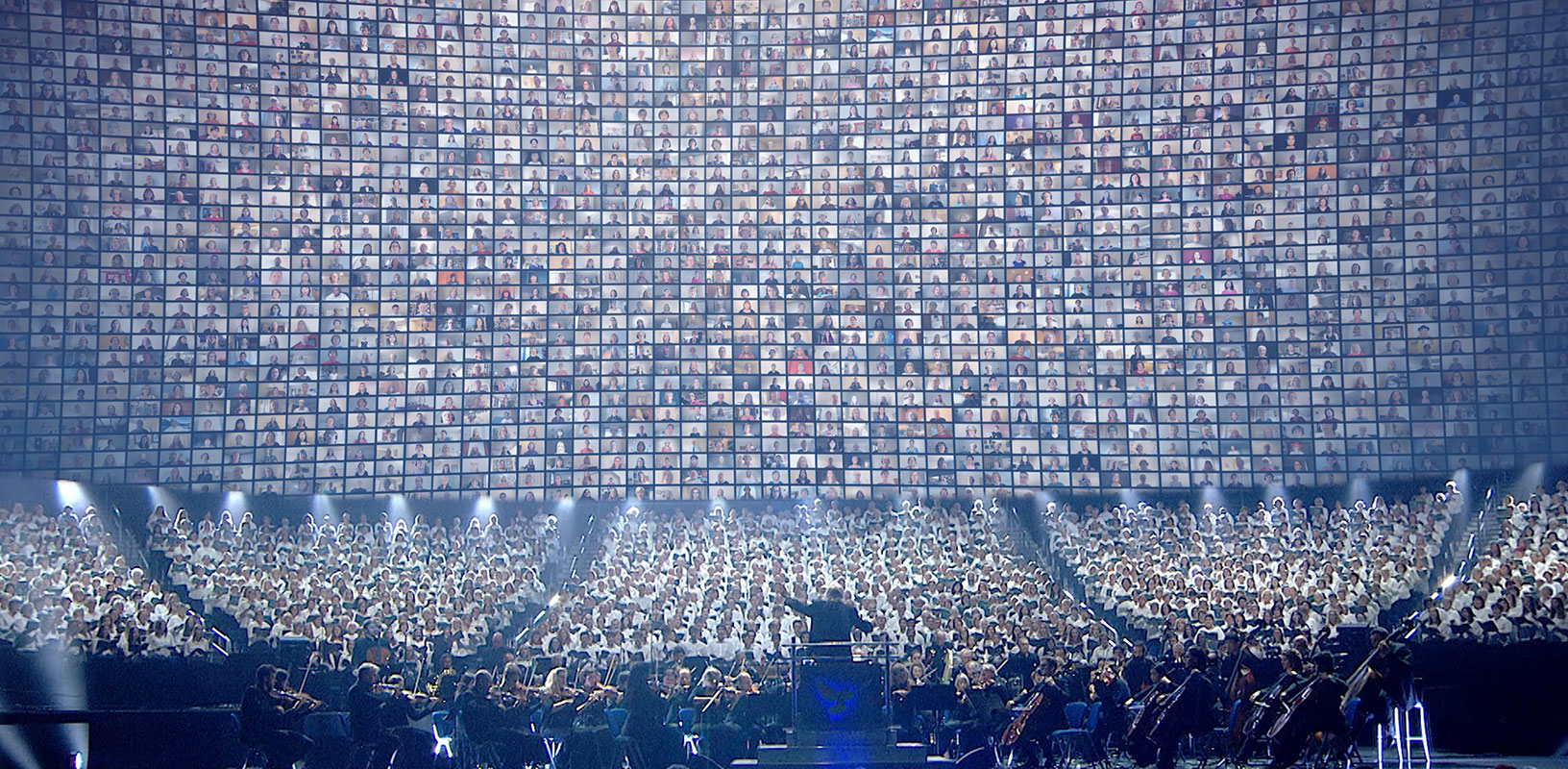 Classic FM is teaming up with the Stay at Home Choir and Boosey & Hawkes for a special digital event celebrating the 20th anniversary of Karl Jenkins's The Armed Man: A Mass for Peace.
On Sunday 6 September at 18:00 BST, Classic FM will be hosting a virtual mass singalong of music from Karl Jenkins's most performed work, The Armed Man: A Mass for Peace, which was premiered at Classic FM Live 20 years ago. New videos will feature movements of Jenkins's beloved work recorded during lock-down by over 5,000 singing members of the Stay at Home Choir from across the world over 10 weeks of rehearsals. The event will also feature special interviews with Karl Jenkins and exclusive performances from special guests.
Tune in online via the Classic FM website, Facebook or YouTube to watch and be a part of this monumental project.
Over the past month or so, the Stay at Home Choir's giant virtual project has joined together thousands of singers from across the globe to get ready for this massed performance – and it's all being conducted by the great Welsh composer himself, giving singers the opportunity to work with a choral legend while in lockdown. On top of the live rehearsals, singers had access to a 'conductor cam' video of Karl Jenkins, a Q&A with the composer and a host of professional musicians.
In the final, show-stopping event on 6 September, virtual choir videos will sit alongside the biggest Armed Man singalong ever, which is open to all. The choir will be accompanied by live orchestral footage from the World Orchestra for Peace.
2020 marks a major anniversary for Karl Jenkins's celebrated choral work, which was premiered at Classic FM Live at the Royal Albert Hall to celebrate the millennium in 2000. The Armed Man should have seen a revival at this year's Classic FM Live event – which unfortunately did not go ahead due to COVID-19. Across its 20 years since premiere, The Armed Man has received over 2750 performances worldwide.
The Stay at Home Choir is a musical community of more than 16,000 people who have become known for their vibrant Zoom rehearsals. Since they launched in early March, thousands of singers from 72 countries around the world have come together to rehearse their parts (in a 'mute and sing' format). Previous collaborations have featured The Swingles, The King's Singers, members of The Sixteen and the Royal Philharmonic Orchestra.
> Further information on Work: The Armed Man: A Mass for Peace (full orchestra version)

Boosey & Hawkes Composer News