Karl Jenkins: The Peacemakers CD release and UK tour
(April 2012)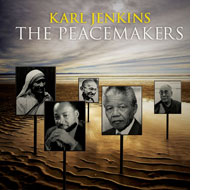 The latest Karl Jenkins release on EMI, The Peacemakers, has enjoyed an immediate popular success in the classical charts. The European premiere takes place in Manchester on 19 May, part of a UK tour travelling to London, Cardiff and Birmingham.
EMI Classics has released its latest Karl Jenkins recording of his recent work, The Peacemakers, premiered at Carnegie Hall in New York in January. The new disc headed straight to number 2 in the UK Classical Artist Album Charts and even reached the top 50 of the overall UK album charts. This follows the chart success and continuing high sales of earlier releases including Adiemus and The Armed Man: A Mass for Peace.

> Listen to audio clips from the new CD
> Watch a trailer on The Peacemakers

The Peacemakers is an hour-long work for chorus and orchestra drawing on texts by a range of iconic figures who have extolled peace and tolerance, including Mahatma Gandhi, Nelson Mandela, Mother Teresa and Martin Luther King. The composer cites a line he sets by Rumi (the 13th-century Persian mystic poet) as summing up the ethos of the piece: 'All religions, all singing one song: Peace be with you'. The Peacemakers promises to be a major addition to the choral repertoire alongside Jenkins's The Armed Man, Requiem and Stabat Mater.

The EMI disc brings together the combined choral forces of the Rundfunkchor Berlin, City of Birmingham Symphony Orchestra Youth Choir and The Really Big Chorus, with violinist Chloë Hanslip, soprano Lucy Crowe and the London Symphony Orchestra conducted by the composer (EMI 509990-843782-2).

Karl Jenkins conducts a UK tour of The Peacemakers in May including the European premiere at the Bridgewater Hall in Manchester on 19 May with the Manchester Chorale, Kinder Children's Choir and the Manchester Concert Orchestra. The first London performance follows on 20 May at the Royal Festival Hall with the City of London Choir, Trinity Boys' Choir and the Philharmonia Orchestra. The Welsh premiere at St David's Hall in Cardiff on 23 May features Cor Caerdyadd, Howell's School Senior Choir and the Orchestra of Welsh National Opera. The Peacemakers tour concludes at Symphony Hall in Birmingham on 27 May. In addition to the new work the tour programme incluedes music from Adiemus, The Armed Man and Palladio.
> Book tickets for The Peacemakers UK tour

The vocal score of The Peacemakers is published by Boosey & Hawkes and is on sale from our online shop. Orchestral materials are available on hire from Boosey & Hawkes.
> Special Offer on score and CD

Forthcoming Karl Jenkins choral premieres include Gods of Olympus, commissioned and premiered by The Really Big Chorus at the Royal Albert Hall in London on 8 July, conducted by Brian Kay. The performance provides a major highlight of the Cultural Olympiad's London 2012 Inspire programme.
> Read more about The Gods of Olympus.
> Further information on Work: The Peacemakers

Boosey & Hawkes Composer News