Karl Jenkins awarded CBE in Queen's Birthday Honours
(June 2010)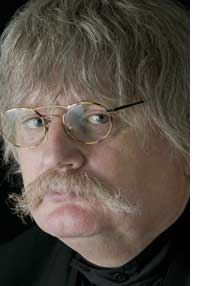 Composer Karl Jenkins (b.1944) has been awarded a CBE (Commander of the British Empire) in the Queen's Birthday Honours, announced on 12 June 2010, for "services to music". This follows his OBE (Order of the British Empire) in 2005.
Karl Jenkins made this statement following the announcement: "It is both a great honour and humbling to receive the award of CBE in Her Majesty the Queen's 2010 Birthday Honours list. This is particularly gratifying since it is given to a composer who has never been part of the music establishment but has, so I am told, touched the lives of literally millions of people globally. I shall unashamedly cherish this."
Following training as a classical musician, Jenkins worked as a jazz performer and with jazz-rock fusion band Soft Machine. He topped the record charts with Adiemus, and went on to compose some of the most performed choral works of our age, including The Armed Man: A Mass for Peace, Requiem and Stabat Mater.
His new Gloria receives its world premiere at the Royal Albert Hall on 11 July performed by the 2500 singers of the Really Big Chorus in the presence of the composer, and will be released the following day on a new EMI recording, coupled with his recent Te Deum.
The music of Karl Jenkins is published exclusively by Boosey & Hawkes.
> Watch a video of Jenkins talking about his music
> More information on the Gloria premiere
Photo: © Eric Richmond/ArenaPAL

Boosey & Hawkes Composer News