Kashperova's Piano Trio receives broadcast premiere
(December 2020)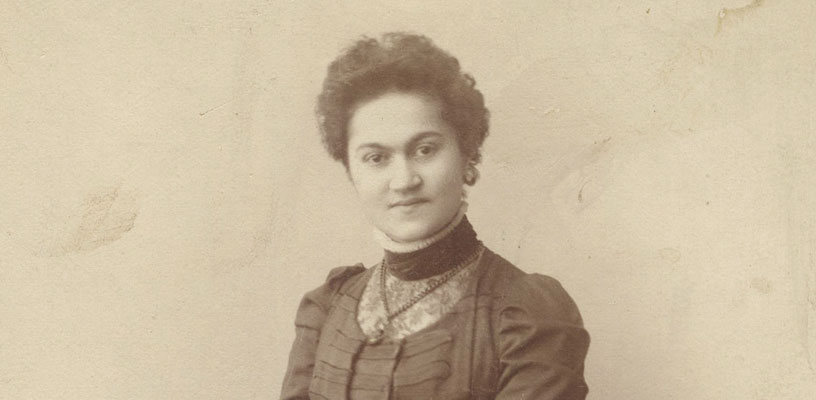 Composed in her final years, though remaining unperformed and unpublished at her death in 1940, Leokadiya Kashperova's Piano Trio in A minor was finally heard as part of the Gould Piano Trio's BBC Lunchtime Concert on 18 December.
The recent rediscovery of the music of Leokadiya Kashperova (1872-1940) continued with the world premiere of her Piano Trio in A minor on BBC Radio 3, broadcast from a BBC Lunchtime Concert in St David's Hall on 18 December, performed by the Gould Piano Trio. This significant chamber work, in four movements and over 25 minutes in duration, dates from the final decade of Kashperova's life. With the violently shifting forces of Russian history and Soviet cultural policy, in her last years she was remembered as a pianist only for being Stravinsky's teacher between 1899 and 1901, and her parallel activities as a successful composer were all but forgotten.
Kashperova's music has enjoyed a new lease of life thanks to the researches of Dr Graham Griffiths at the Russian National Museum of Music in Moscow and his work on the Boosey & Hawkes Kashperova Edition. Alongside the Piano Trio, works restored for performance include her Piano Concerto in A minor (1900), the Symphony in B minor (1904-05) and the Suite for Piano: In the midst of nature (1910). 2021 will bring the publication of two substantial cello sonatas, composed in the mid-1890s, and her 12 Love Songs: Romances (1904) for soprano and piano.
Dr Graham Griffiths relates how "Kashperova was a respected figure in St Petersburg for two decades (1895-1916), giving piano recitals, appearing in chamber music series, hosting regular musical evenings at her apartment on Tuesdays in the manner of the more celebrated 'Korsakov's Wednesdays'; in 1907 she undertook concert tours to Berlin and London (twice). Her music was well-known to concert audiences in Russia and beyond. But, inescapably, her life was upended by the Revolution of 1917. Thereafter, the accumulated impact of civil strife, two world wars and the constantly shifting sands of Soviet cultural policy condemned her to becoming a neglected footnote to Russia's musical history.
"For a long time it seemed that Leokadiya Kashperova had abandoned all attempts at composition following the Russian Revolution of 1917; research had uncovered no trace of later creativity, no scores nor any reference to them. However, with the discovery in 2019 of the four-movement Piano Trio in A minor in the Russian National Museum of Music in Moscow (albeit in pencil manuscript) Kashperova's catalogue and her musical reputation were both greatly enhanced.
"Throughout her Piano Trio in A minor Kashperova demonstrates a trait discernible in all her music: namely, a finely-judged spacing of intervals within chords and arpeggios which allows light to permeate every musical texture… Despite moments of high drama and virtuosity, even episodes of unsettling harmonic progression, one senses throughout this remarkable work the unmistakable qualities of lyricism and musicality which have always been admired characteristics of Kashperova's art."
The Piano Trio in A minor (op posth) is published with the permission of the Russian National Museum of Music, Moscow, with thanks to its director Mikhail Bryzgalov and head of its Manuscripts Department Olga Zuzina. The reconstruction of the composition was assisted by members of the Gould Piano Trio (Lucy Gould, violin; Richard Lester, violoncello; Benjamin Frith, piano), particularly regarding details of phrasing, bowing and articulation, which were missing from the manuscript, running to over 800 bars of music.
> Further information on Kashperova and her music
> Further information on Work: Piano Trio in A minor
Photo courtesy of Russian National Museum of Music, Moscow

Boosey & Hawkes Composer News