Kim André Arnesen: Decca releases Holy Spirit Mass
(February 2021)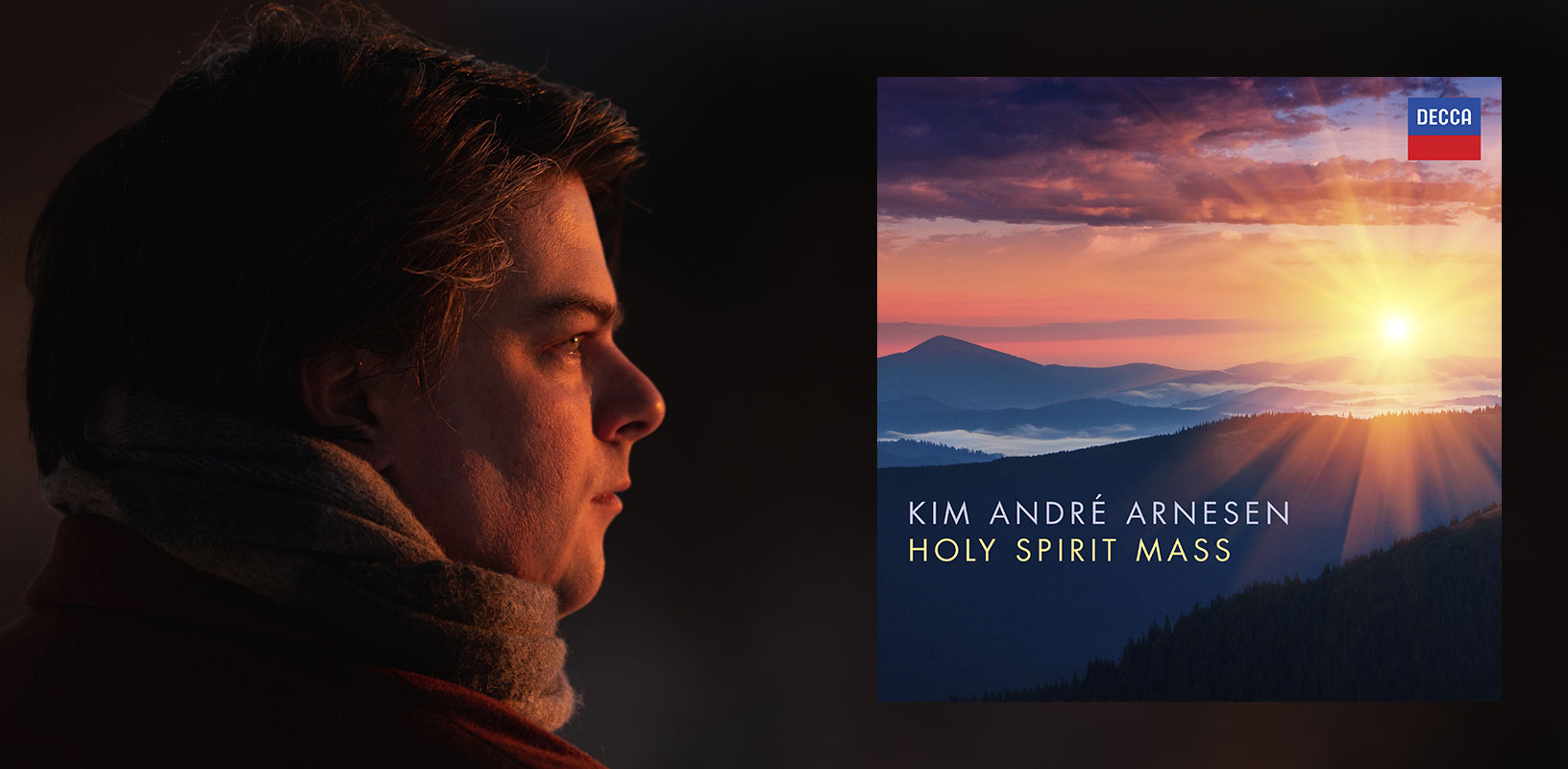 Norwegian composer Kim André Arnesen's Holy Spirit Mass is released by Decca Classics for Easter, his first full-length recording on the label. Sofi Jeannin conducts the Trondheim Vocal Ensemble and Trondheim Soloists on the recording, out on 2 April.
The premiere recording of Kim André Arnesen's Holy Spirit Mass is released by Decca Classics on Good Friday, 2 April 2021. Arnesen's works have crossed oceans and continents, with "rapturous" (New York Times) performances for the likes of former President Barack Obama. Already one of the world's most performed living composers, his scores have become mainstays of both amateur and professional choral repertoire.
Holy Spirit Mass is a recent work for choir, string ensemble and piano, commissioned in 2017 for the National Lutheran Choir in America's Nordic heartland, Minnesota, to mark the 500th anniversary of the Reformation. This world premiere recording features Swedish conductor Sofi Jeannin, Trondheim Vocal Ensemble and the world-renowned Trondheim Soloists.
> Pre-order the Decca recording
> Listen to a track from the recording
> View the score of Holy Spirit Mass
> Purchase the score of Holy Spirit Mass from our shop
> View more music by Kim André Arnesen
Arnesen's musical influences are rooted firmly in his native Trondheim, Norway, where he was once a chorister at the imposing, medieval Nidaros Cathedral. The liturgical hymns and chants performed at the venue had a hand in shaping Arnesen's voice as a composer, combined with the pop and alternative music he encountered as a teenager growing up in the 1990s.
Arnesen says, "The whole community of the place has had a big impact on me. It was the cathedral's embracing of varied traditions that introduced me to musical settings of the Latin Mass. At the same time as I was getting interested in choral music at the cathedral, I was watching MTV every day. In a way, hymn melodies have lots in common with pop music. I realised that the most powerful experiences I had in the church were usually connected to the simplest, most singable melodies."
Arnesen describes how the inspiration for the Holy Spirit Mass "was a great hope for unity between Christianity's two dominant traditions, Lutheran and Roman Catholic. The same quest forms a central part of the ministry at Nidaros Cathedral. The work combines the text of the Catholic Mass with words from the hymn Come Holy Ghost, God and Lord by the great reformer Martin Luther, and from the 9th-century antiphon Veni Creator Spiritus."
"I had always wanted to write a Mass and grew up singing many other settings that I loved, so being able to finally write my own has been very inspiring. As with most of my music my initial focus was to develop the main themes and motifs to give each movement and the whole work its distinct identity."
The focal point is the work's sixth movement, the hymn Together in Hope – a literal expression of unity in which multiple, disparate voices are drawn together. In Creator Spirit (the Mass's Kyrie), a melody from the first movement features, returning in the fifth movement Peace (the Mass's Agnus Dei). The Spirit's Work, equivalent to the Mass's Credo, feature almost operatic statements from smaller groups of singers. In Blessed, the Mass's Benedictus, a divine violin solo induces the choir's rising statements of Hosanna. The final Alleluia opens with a snippet of plainchant, steadily gathering momentum towards a joyous proclamation of unity. At the recording sessions in Trondheim in September 2020, those feelings were particularly acute.
Arnesen continues, "It was the first time a lot of us had performed together since March. We were very lucky to be able to do it at all. It became a very special time."
About Kim André Arnesen
One of the world's most frequently performed contemporary choral composers, Kim André Arnesen (b. 1980), is a classical musician from Trondheim, Norway. Although an avid follower of MTV and a huge fan of The Cure at ten years old, he also studied classical piano, was a chorister in the Nidaros Cathedral Boys' Choir and was later educated at the Music Conservatory in Trondheim. With deep interests in baroque, contemporary classical, and popular music, his musical career could have taken many roads... but choral music became his greatest passion.
Kim's album Magnificat was recorded and released by 2L in 2014 and received rave reviews in many classical music magazines, among them Gramophone and Choir & Organ. Gramophone calls his music 'haunting, beautifully arched, warmly compassionate'.
His second album, Infinity: Choral Works (Naxos), released January 2018, climbed to No.2 in the best-selling classical albums on iTunes, No.6 on the Billboard Traditional Classical Albums Charts.
Among his most popular and globally performed choral works are Even When He is Silent, Cradle Hymn, and Flight Song. His music has sold in six figure numbers and has been performed in more than 30 countries. In 2016 his Cradle Hymn was performed at the White House for President Barack Obama.
The National Lutheran Choir commissioned and premiered Kim's Holy Spirit Mass in commemoration of the 500 year anniversary of the Reformation at The National Cathedral in Washington DC in 2017. The European premiere of the Mass was in Rome at the opening of the 2018 Festival of Sacred Music and Art.
Other large works include The Wound in the Water, commissioned by the St. Olaf Festival in Trondheim and premiered by Conspirare, Elin Manahan Thomas and conductor Craig Hella Johnson in 2016, Tuvayhun – Beatitudes for a Wounded World, commissioned and premiered by the Manhattan Girls Chorus and conductor Michelle Oesterle in 2018, Nordic Christmas, commissioned and premiered by VocalEssence and Philip Brunelle in 2019, Stabat Mater for Haderslev Cathedral Girls' Choir in Denmark in 2020, and Nordlys for the World Choral Fest 2020.
In December 2020 and January 2021 Kim released four piano singles: Light a Candle, December Night, Snow Light, and Winter Moon on Decca classics. Winter Moon reached No.1 on Apple Music's classical charts.
Kim is an elected member of the Norwegian Composers Society and his music is published by Boosey & Hawkes.
> Further information on Work: Holy Spirit Mass
Photo: Ole Wuttudal

Boosey & Hawkes Composer News