Kurt Schwertsik vertont Lewis Carroll
(November 2023)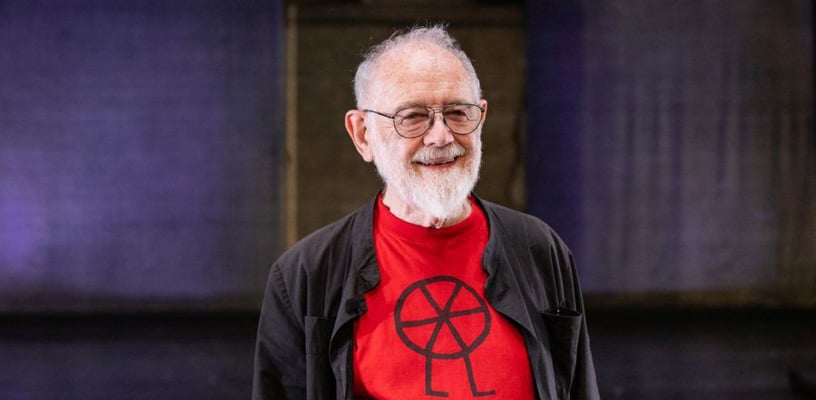 Im Rahmen von Wien Modern kommt am 23. November das neueste Werk von Kurt Schwertsik zur Uraufführung: Alice beruht auf den berühmten Büchern von Lewis Carroll und wurde vom Komponisten, zusammen mit Librettistin und Regisseurin Kristine Tornquist, als Revue in 26 Bildern umgesetzt, mit einer Solistenriege in zahlreichen Rollen sowie Kammerorchester.
Musikalische Adaptionen der beiden Alice-Bücher von Lewis Carroll gibt es in großer Zahl. Doch mag überraschen, dass ausgerechnet Kurt Schwertsik sich der prominenten Vorlage in den langen Jahrzehnten seines kompositorischen Schaffens noch nicht angenommen hat – scheint sie doch wie gemacht für diesen Schelm der neuen Musik Österreichs, bekannt für seine verspielten und absurd-ironisch gebrochenen, oft literarisch inspirierten Stücke.
"Die Geschichen aus Carrolls Alice's Adventures in Wonderland und Through the Looking-Glass, and What Alice Found There mit der Vielzahl an Figuren, den traumhaft rasanten Wechseln der Orte, Maßstäbe und Situationen sind nicht für die den Gesetzen der Physik unterworfenen Bühne gemacht", bekennen die Veranstalter. "Umso spannender, Wege zu finden, Lewis Carrolls sich überschlagende Unlogik-Spiele zu einer theatralen Wunderbox zu machen.
Der Kampf im Wunderland dreht sich um Schicklichkeit, die Waffe ist das Wort. Die berühmte blaue Raupe, die Herzkönigin, der zeitlose Hutmacher, die geschwätzigen Blumen und andere erstaunliche Figuren reißen im Wortwechsel mit Alice stets die Deutungshoheit an sich. Ihre Logik deckt sich zwar nicht mit dem Hausverstand, und sie haben auch nicht Recht, dafür aber das Sagen und damit die Macht, Alice den wunderlichsten Benimmregeln zu unterwerfen – Benimmregeln wie im viktorianischen England, unter denen der Mathematiker Charles Lutwidge Dodgson alias Lewis Carroll zeitlebens litt. Doch über diesen gesellschaftskritischen Aspekt hinaus sind seine beiden Alice-Bücher das Werk eines begnadeten Spielers, der mit Logik und Unlogik jongliert und daraus den tiefsten Widersinn und das höchste Vergnügen destilliert."
Ein großes Unterfangen also, diese neue Wiener Alice, und mit Sicherheit ein Höhepunkt in Schwertsiks umfangreichem szenischen Schaffen. Für die Uraufführungsproduktion wirken zahlreiche Kräfte zusammen: 7 Solo-Darsteller*innen, eine 27-köpfige Instrumentalgruppe sowie das interdisziplinäre Serapions Ensemble singen und spielen unter der Ägide von Kristine Tornquist und Max Kaufmann in der Ausstattung von Mirjam Mercedes Salzer und Eva Grün; François-Pierre Descamps dirigiert.
Kurt Schwertsik:
Alice
Eine phantastische Revue (2022–2023)
Libretto von Kristine Tornquist nach Lewis Carroll
UA: 23.11.2023 Odeon Theater, Wien (Wien Modern)
Inszenierung: Kristine Tornquist & Max Kaufmann
Musikalische Leitung: François-Pierre Descamps
sirene Operntheater / Serapions Ensemble / Das Rote Orchester
Folgeaufführungen bis 31.12.2023
> Die Aufführungen bei Wien Modern
> Das Werk beim sirene Operntheater
 
> Further information on Performance: Alice
> Further information on Work: Alice
Foto: Kurt Schwertsik (© Martina Stapf)

Boosey & Hawkes Composer News