Leokadiya Kashperova: Her Life and Music
(March 2022)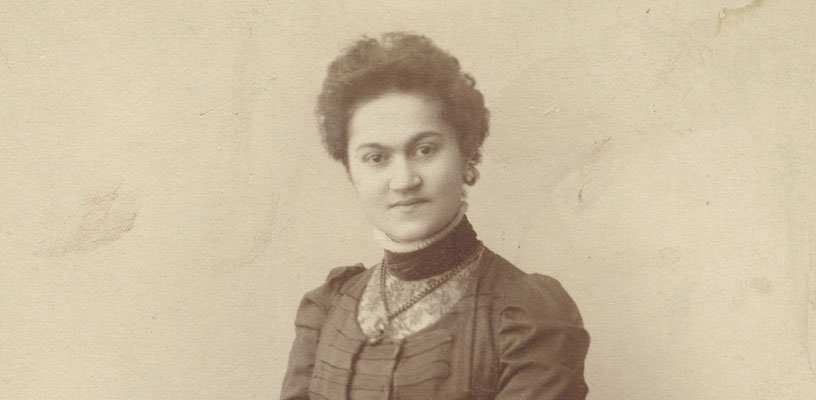 The recent rediscovery of Leokadiya Kashperova and her works has been celebrated across the musical world. Explore how her Romantic pieces are being brought to light through the efforts of musicologist Graham Griffiths and the performers who now champion her music. Part of a profile series throughout March—Women's History Month—in which we explore the lives, music, and inspirations of extraordinary composers from around the world.
As soon as I began uncovering her lyrical and beautifully crafted music I realised that Kashperova had been unjustly overlooked … her considerable achievements had been erased by the misfortunes of History. —Graham Griffiths
Her Story
Until recently Leokadiya Kashperova's reputation rested uniquely upon Stravinsky's portrayal of her as his piano teacher, in his autobiography (Chronique de ma vie, 1935) and via later comments. She taught him for two years between 1899 and 1901 during which time she composed and premiered her Piano Concerto.
Studying at the St Petersburg Conservatoire, Kashperova was a respected figure in St Petersburg around the turn of the century, giving piano recitals, appearing in chamber music series, hosting regular musical evenings at her apartment on Tuesdays (in the manner of the celebrated 'Korsakov's Wednesdays'). Her music was well known to concert audiences in Russia and beyond, and in 1907 she undertook concert tours to Berlin and London (twice). But, inescapably, her life was upended by the Revolution of 1917. Thereafter, the accumulated impact of civil strife, two world wars and the constantly shifting sands of Soviet cultural policy relegated her position to a neglected footnote to Russia's musical history. After her death in 1940, her biography and her remarkable music were effectively forgotten, even in Russia.
However, recent research has led to a resurgence in interest in Kashperova, illuminating her career as an extraordinarily talented composer-pianist. Her catalogue testifies to more than 50 years' creativity and establishes her as one of the earliest female Russian composers of international stature.
Her Major Works
Kashperova's rediscovered works include symphonic scores, songs, chamber music and choral works, which present a warm romanticism, rich harmonies and beautiful lyrical melodies.
Her orchestral colours are well-demonstrated within the Symphony in B minor, her magnum opus and the first work of Kashperova to be rediscovered in modern times, and in the Piano Concerto in A minor. The latter enjoys felicitous solos for the woodwind, horns, and brass, and glimpses of chamber music in individual movements. The concerto's quick music (Molto allegro and Allegro con anima) admirably portrays the vivacious personality of their composer, described in 1906 as offering those around her 'an abundance of joy, excitement and fun … She never ceases to surprise us all!' The central movement, by contrast, is a tender Andante which offers the listener a gem of musical poetry.
Her output, and indeed the memoirs she wrote about her work, show she had a clear affinity for the piano trio genre. She wrote three in her life, though only one, the Piano Trio in A minor, has been uncovered and performed. This trio is captivating from the off-set thanks to a haunting opening with a repeating figure in the piano and long, drawn-out lines across the strings. Its varied identity emerges as Kashperova explores some strange harmonies in later passages. The Scherzo has the most characterful flavours of Russia and feels reminiscent of the spirited melodies in her earlier works.
Kashperova's two cello sonatas, opus 1 (no 1 in G, no 2 in E minor), were composed between 1895 and 1896, immediately after she graduated from the St Petersburg Conservatoire. Both works are in four expansive movements and display such compositional assurance and breadth of expression they must surely rank amongst the most impressive 'opus 1' creations by any young composer. The newly-discovered cello sonatas present an exciting challenge for modern-day cello/piano pairings. They boast complex piano parts comparable to the wide-spanning piano parts in Rachmaninoff's output. This is paired with rich flowing cello lines.
Music for Voice
Kashperova's works for voice are as captivating as those for orchestra and chamber groups. Leokadiya herself had a very good soprano voice and performed in her weekly soirées in her apartment in St Petersburg, accompanying herself at the piano.
She would set her own poetry and lyrics, as well as that of the famous Romantic poet Yakov Polonsky. The most famous of these Polonsky settings is The Eagle and the Snake – a cautionary fable. She also sets Where Do the Stars Come From?, an enchanting mystical tale with a children's chorus of flowers (crying) and an angel who gathers up their tears which are transformed into stars! Evening and Night, another Polonsky setting, is an attractive choral work scored for upper voices.
The most expansive solo vocal work to have survived is Songs of Love: 12 Romances for high voice and piano, which demonstrates her ability to set her own poetry with great success. The cycle presents delightfully simple yet soaring lines for soprano and a highly varied piano part which encapsulates the many moods of love.

Boosey & Hawkes Composer News