Lindberg's Al largo Closes Gilbert's First New York Philharmonic Season
(May 2010)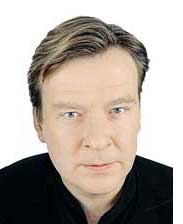 Lindberg's Al largo Closes Gilbert's First New York Philharmonic Season
Magnus Lindberg closes his first season as Composer-in-Residence at the New York Philharmonic with the June 23-24, 26 world premiere performances of Al largo, composed for the occasion.

This marks the second of two new Lindberg works commissioned by the New York Philharmonic this year, thus bookending the season. Highlights of the residency have included the "bold," "extroverted" premiere of EXPO  which launched Alan Gilbert's tenure as the new Music Director at the opening of the season, the U.S. Premiere of Lindberg's Clarinet Concerto at Carnegie Hall with Kari Kriikku as soloist, and two concerts as part of the CONTACT! New Music Series, curated by Lindberg. Gilbert will also conduct performances of Lindberg's 1995 work, Arena, June 10-12, 15.

Of Al largo, Lindberg says: "This the fastest music I've ever written, yet somewhere deep down there is a feeling of a very slow undertone and a very slow momentum, something large and wide in terms of expression. My friend, the composer Luca Francesconi [Ricordi Milan], suggested that I use the Italian expression "Al largo," which means being offshore, specifically referring to that moment when you reach the open sea, you don't see the coast anymore, and what is before you is vast." MORE…

Looking ahead to next season, Lindberg will compose his third and final piece for the residency, to premiere November 19-20 as part of CONTACT!. On October 7-8, 12, Lindberg takes his place at the piano for three performances of his piece Kraft for orchestra (1983-85).

Photo credit: Hanya Chlala ARENAPal

Boosey & Hawkes Composer News