Lindberg's Violin Concerto: reviews from New York
(October 2006)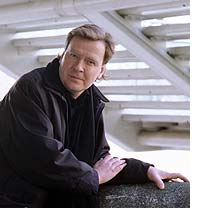 Magnus Lindberg has followed his concerti for piano, cello and clarinet with a new Violin Concerto written for the young Georgian-born, Munich-based virtuoso Lisa Batiashvili.


Commissioned by Lincoln Center for the Performing Arts, in association with the Barbican Centre, Casa da Música-Porto, and the Swedish Chamber Orchestra, the Violin Concerto's premiere took place at the Mostly Mozart festival in New York with the resident orchestra conducted by Louis Langrée. The scoring reflects the Mozartian orchestra of strings plus pairs of oboes, bassoons and horns, but the idiom is very much Lindberg's own.


"Lindberg is a flinty purist in an age of stylistic promiscuity. The new-music world has become a chaotic MySpace of predilections… but 48-year-old Lindberg is having none of it. He has been steadily turning out hyperactive, bright-skinned works in which the frenzied surface whirls around a dense core of logic… Lindberg was not about to write some postmodern neo-Mozart just for the sake of an anniversary. Relevance will have to wait… The young and spectacularly poised violinist Lisa Batiashvili played the world premiere as if she had grown up with the piece."
New York Newsday


"A glittery and jittery little showpiece that steadfastly refuses to show off. It toys inventively with intricate expressive impulses… Despite its complexity, Lindberg's 25-minute opus insists on making friendly sounds, the exposition taut and tense, the dynamic values subdued, the harmonic clashes relatively mild. Lisa Batiashvili played the forbidding solos with dauntless ease, fiddling elegantly while Lindberg's rhetoric burned. It was a staggering achievement, appropriately cheered."
Financial Times


"Lisa Batiashvili played the solo violin line with energy and agility, and a tightly focused sound that wove easily in and out of the orchestral fabric…The lengthy, riveting cadenza near the end of the work is full of beauty and surprise, and it samples the full gamut of violin technique, from pizzicato to sliding and trilling, to lush melodies in double stops. Ms. Batiashvili made the most of its showpiece qualities but also maintained its internal coherence."
New York Times


Further performances of the new Violin Concerto include the European premiere by the Swedish Chamber Orchestra and Thomas Dausgaard in Orebro on 5 October, and Portuguese, Danish and UK premieres to follow in 2007, all with Lisa Batiashvili as soloist. Lindberg's most recent orchestral work, Sculpture, is also travelling widely in early 2007, with Jukka-Pekka Saraste conducting the Italian, German and Swedish premieres.
> Further information on Work: Violin Concerto No.1
Photo: © Hanya Chlalal/ArenaPAL

Boosey & Hawkes Composer News