Los Angeles Philharmonic Champions Gabriela Ortiz This Fall
(August 2022)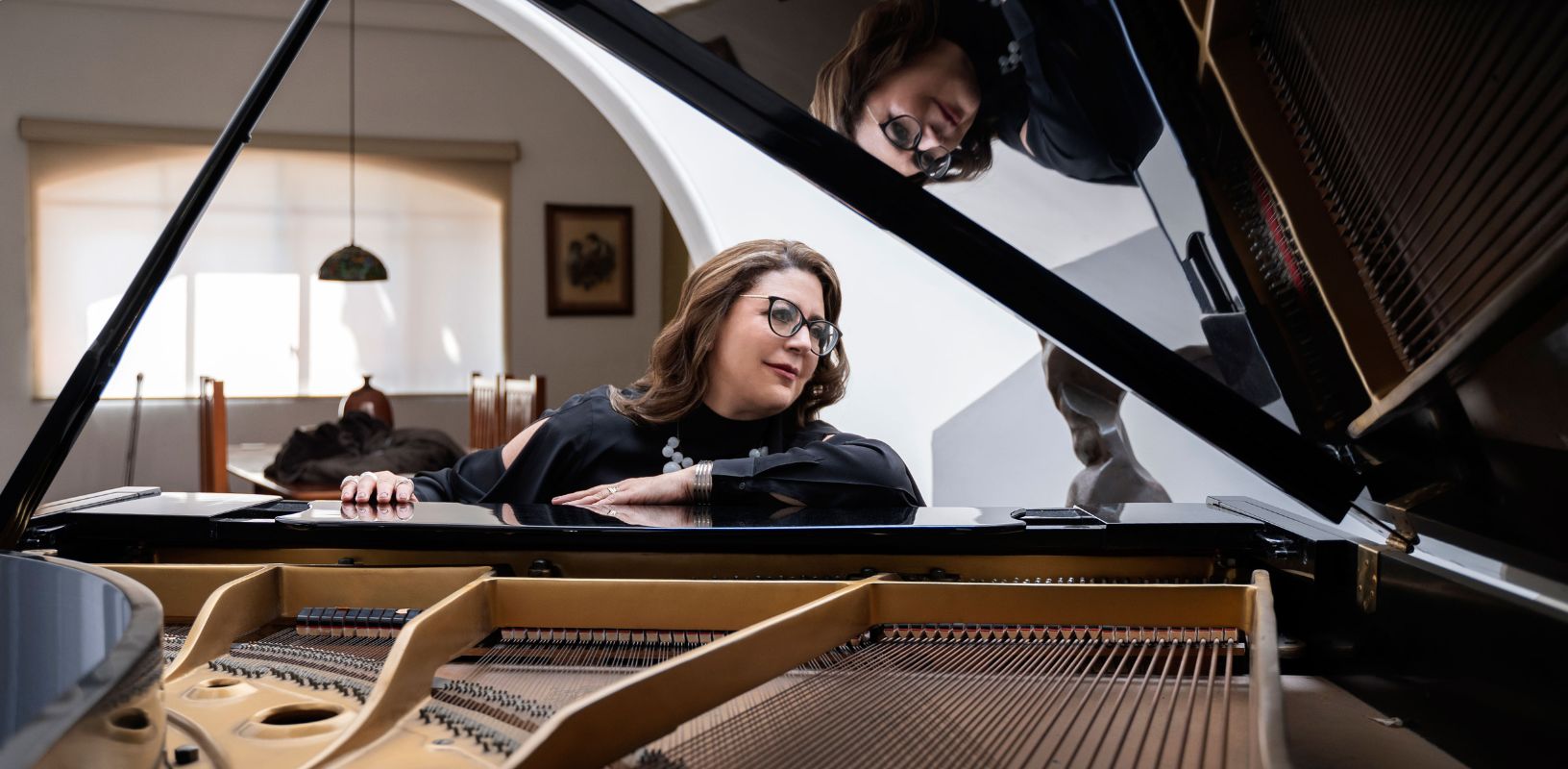 This September and October, the Los Angeles Philharmonic performs three recent orchestral works by Gabriela Ortiz at Disney Hall as part of its Pan-American Music Initiative, then embarks on a multi-city tour featuring Ortiz's music, with performances in Boston, New York, Mexico City, and Guanajuato.
The Los Angeles Philharmonic and Gustavo Dudamel have been enthusiastic champions of new B&H signing Gabriela Ortiz for many years, with recent commissions including Yanga for percussion ensemble and orchestra, Kauyumari for orchestra, and Altar de Cuerda for violin and orchestra. This fall, as part of its Pan American Music Initiative, the orchestra presents these three substantial works in Los Angeles, then embarks on a multi-city tour featuring Ortiz's music, with performances in Boston, New York, Mexico City, and Guanajuato.
The ambitious five-year Pan-American Music Initiative showcases music across the Americas, with 30 new commissions, recording projects, and creative collaborations. Gabriela Ortiz has curated this initiative alongside Gustavo Dudamel to highlight the diversity and creativity in countries such as her native Mexico, plus Argentina, Brazil, Chile, Peru, Colombia, and more.
> Listen to this Pan-American Playlist, curated by Gabriela Ortiz.
The program's second season launches on September 30 with a concert of choral works by composers from across the Americas, including Ortiz's Yanga, which features the Tambuco Percussion Ensemble alongside the Los Angeles Philharmonic and Los Angeles Master Chorale. Originally premiered in 2019, Yanga is named for a 16th-century prince from Gabon who was sold into slavery, then became the liberator of slaves in Veracruz.
> Watch Ortiz and Dudamel talk about Yanga.
On October 6-9, acclaimed violinist María Dueñas returns to Disney Hall to perform Ortiz's violin concerto Altar de Cuerda, which premiered with the Los Angeles Philharmonic just five months earlier, in May 2022. This three-movement work—the latest in Ortiz's series of "musical altars"—centers around architecture and follows a traditional fast-slow-fast structure, ending with a virtuosic cadenza for the soloist. The Los Angeles Times states: "The beautiful, bass-heavy central movement, 'Canto Abierto' (Open Song), conjures a mystical atmosphere of early Mexican churches. A bass drum booms, deep strings give mildewy cushion and timpani glide down as if to the center of the Earth. Wind instruments are the wind. The glistening solo violin does the singing. A final chord in the orchestra sounds electrically charged."
The season's final installment of the Pan-American Music Initiative opens with Gabriela Ortiz's Kauyumari on October 13-16. Kauyumari—a reference to the "blue deer" spiritual guide of the Huichol people in Mexico—premiered in October 2021. Ortiz explains: "When I received the commission from the Los Angeles Philharmonic to compose a piece that would reflect on our return to the stage following the pandemic, I immediately thought of the blue deer and its power to enter the world of the intangible as akin to a celebration of the reopening of live music … Although life is filled with interruptions, Kauyumari is a comprehension and celebration of the fact that each of these rifts is also a new beginning."
Following the Pan-American Music Initiative concerts, the Los Angeles Philharmonic will perform the Ortiz works throughout its multi-city tour: Altar de Cuerda at Symphony Hall in Boston (October 23); Altar de Cuerda and Kauyumari at Carnegie Hall in New York (October 25 and 26; Kauyumari at Auditorio Nacional in Mexico City (October 28), and Altar de Cuerda at Teatro Juárez in Guanajuato (October 29). Each performance will be a territorial premiere of the various works.
Los Angeles Philharmonic Performs Gabriela Ortiz
PAN-AMERICAN MUSIC INITIATIVE
Sep 30-Oct 2
GABRIELA ORTIZ Yanga
Tambuco Percussion Ensemble / Los Angeles Philharmonic / Los Angeles Master Chorale / Gustavo Dudamel
Oct 6-9
GABRIELA ORTIZ Altar de Cuerda
Maria Dueñas, violin / Los Angeles Philharmonic / Gustavo Dudamel
Oct 13-16
GABRIELA ORTIZ Kauyumari
Los Angeles Philharmonic / Gustavo Dudamel
TOUR
Oct 23: Symphony Hall, Boston
GABRIELA ORTIZ Altar de Cuerda (BOSTON PREMIERE)
Maria Dueñas, violin / Los Angeles Philharmonic / Gustavo Dudamel
Oct 25: Carnegie Hall, New York
GABRIELA ORTIZ Altar de Cuerda (NEW YORK PREMIERE)
Maria Dueñas, violin / Los Angeles Philharmonic / Gustavo Dudamel
Oct 26: Carnegie Hall, New York
GABRIELA ORTIZ Kauyumari (NEW YORK PREMIERE)
Los Angeles Philharmonic / Gustavo Dudamel
Oct 28: Auditorio Nacional, Mexico City
GABRIELA ORTIZ Kauyumari (MEXICAN PREMIERE)
Los Angeles Philharmonic / Gustavo Dudamel
Oct 29: Teatro Juárez, Guanajuato
GABRIELA ORTIZ Altar de Cuerda (MEXICAN PREMIERE)
Maria Dueñas, violin / Los Angeles Philharmonic / Gustavo Dudamel
Photo: Mara Arteaga

Boosey & Hawkes Composer News