Louis Andriessen: La Commedia reviews from Amsterdam
(September 2008)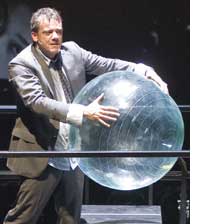 Louis Andriessen: La Commedia reviews from Amsterdam
Louis Andriessen's La Commedia, his highly individual operatic distillation of Dante's epic journey through heaven and hell, was premiered at the Holland Festival in June. Hal Hartley's film provided haunting counterpoint to Andriessen's score in Amsterdam's 'circus' venue, the Royal Carré Theatre, with Reinbert de Leeuw as conductor and ringmaster. Vocal leads were taken by soprano Claron McFadden, chanteuse Cristina Zavalloni and singing actor Jeroen Willems as Beatrice, Dante and Lucifer, with Netherlands Opera forces, actors on film, and musicians of the Asko and Schoenberg Ensembles, summoning up the joys, sorrows and follies of humanity.

"An 'opera' by Louis Andriessen is never a traditional work. Classical ingredients like a clear-cut plot or the psychological development of the characters give way to a more abstract approach: a web of ideas and associations. […] La Commedia is bursting with details, allusions and quotes, and at times brilliantly combines contrasting musical ideas. Here, the banal sounds cheekier than ever, and the lofty lacerates your soul."
De Standaard

"…the distillation of a lifetime's creativity... There is nothing ethereal about this opera. Its questing vigour is of a materialist, Brechtian, Godardian kind. It relishes the mixture of media, musical quotations and parody, intellectual subtexts and ironic commentary while remaining spunkily itself — a brilliant, new-fangled circus. Whether rhythmically driven in his minimalist manner, harmonically block-like with a Stravinskian bite, flaring up like a big band or essaying startling textures, such as those produced by the lowest woodwinds dancing together, Andriessen's score is a holiday of inventiveness... It was expertly conducted by his lifelong supporter Reinbert de Leeuw."
Sunday Times

"Hell is replaced by something that Andriessen has moulded into a musical playground full of reminiscences, references and quotes. In his depiction of a serpent he even competes with the musical tone-painting of Richard Strauss. The musical rendering of Paradise is sublime; the music is at times just as over-illuminated as the accompanying film images: minuscule, isolated tufts of sound… With this work, Andriessen outdoes his earlier large-scale compositions, De Materie (1989) and the Trilogy of the Last Day (1997) – reflections on spirit, matter and death, that now, with La Commedia, reach into the hereafter. It makes you wonder what's next."
De Volkskrant

"Andriessen's music is often forceful and driving, which is his characteristic style, especially in the first two scenes… But these just hinted at the humour, the ingratiating jazziness, the terrible fury and, in the end, the ravishing grace of the later scenes… The opera, which is dedicated to [his wife's] memory, is what happened when the hippest, sassiest, most savvy major composer we have dealt with the most meaningful moment of his life and left nothing out. La Commedia is an opera that should be seen again, and it will be."
Los Angeles Times

Andriessen's The Hague Hacking, a new double piano concerto for the Labeque Sisters commissioned by the Los Angeles Philharmonic, is premiered under the baton of Esa-Pekka Salonen at the Walt Disney Concert Hall on 16 January. Further performances are planned in the Netherlands and the UK in 2009 during Andriessen's 70th birthday year.
> Further information on Work: La Commedia
Photo: Netherlands Opera/Hans van den Bogaard

Boosey & Hawkes Composer News