Louis Andriessen: Tapdance for 75th birthday year
(February 2014)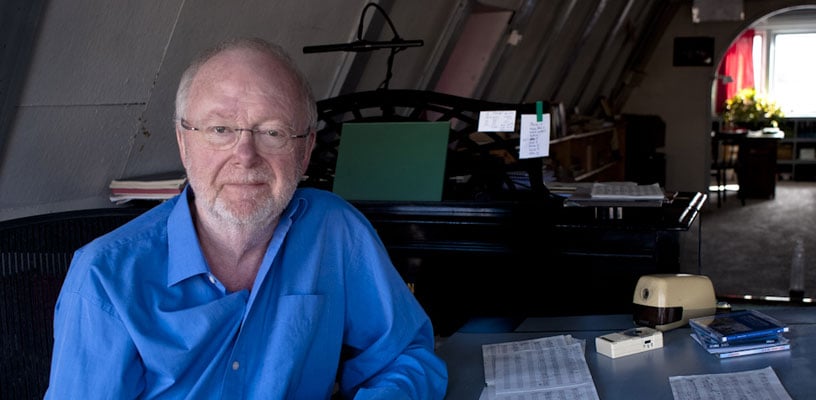 Louis Andriessen's 75th birthday year introduces Tapdance, his new work for percussion and ensemble.
International celebrations for Louis Andriessen's 75th birthday year in 2014 combine first performances of new works with retrospectives across his output. His first large-scale orchestral work for 45 years, Mysteriën, was premiered by the Royal Concertgebouw Orchestra as a birthday upbeat in November, and this year brings first performances of Tapdance, a new work for percussion and ensemble featuring soloist Colin Currie.

The Asko/Schoenberg Ensemble under Reinbert de Leeuw presents a pair of Andriessen birthday concerts at the Muziekgebouw in Amsterdam on 8 and 9 May, followed by the unveiling of Tapdance in the ZaterdagMatinee series at the Concertgebouw on 24 May. Further performances of Tapdance are scheduled in the autumn within the Southbank Centre's Metal, wood, skin series in London with Colin Currie (5 October) and at the finals of theTromp International Percussion Competition in Eindhoven (16 November).


Driving pulse and exuberant rhythmic interchange have played central roles across Andriessen's oeuvre, but the composer was keen to exercise some restraint in the new 15-minute work: "I've tried to avoid the 'every instrument including the kitchen sink' approach to the percussion concerto by focussing on three spotlit sections for the soloist, each exploring distinct characteristics and colours.


"The first is purely rhythmic, adopting patterns from the Charleston – the soloist doesn't dance but portrays the sound of a tapdancer's footwork. The second introduces fixed pitches through a solo toccata for marimba alone, and the third is a closing slow movement with a single timpani drum, in which the material is contained within the limited span of a sixth. The ensemble introduces or comments on the material of the soloist, with its own percussionist acting as a go-between.


"The large ensemble has 18 players plus strings and produces a ghostly recollection of the slow jazz blues from the 1950s and '60s, with particular reference to the music of Horace Silver. The trajectory of the piece is the opposite to what you might expect: it moves from energy to melancholy, and is something of a homage to the Percussion Concerto by Milhaud, where positive vigour is increasingly supplanted by sadness and desperation – a very intriguing approach."


Another major highlight of the 75th year is an extensive Andriessen festival in the Washington DC area including La Commedia (6 April) – the Dante-inspired opera will also appear this year on a new Nonesuch recording. De Materie returns with a concert performance by the Los Angeles Philharmonic (18 April) and a new production by Heiner Goebbels with the Ensemble Modern Orchestra to open the Ruhr Triennale (15 August) – the work's German premiere and the first staging of the complete tetralogy for 25 years.
> Further information on Work: Tapdance
Photo: (c) Francesca Patella

Boosey & Hawkes Composer News