Louis Andriessen's 70th Birthday: Music on Main, Vancouver
(April 2009)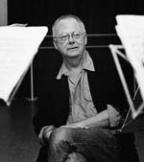 The international celebrations of Louis Andriessen's 70th birthday began in earnest with a far-reaching festival running April 3-8 in Vancouver, presented by Music on Main and Hard Rubber Orchestra. Louis Andriessen, "the hippest, sassiest, most savvy composer we have" according to Los Angeles Times, was in attendance throughout the festival, featured in lectures, talks, composition masterclasses and performances.

In addition to featuring Vancouver's top musicians---Hard Rubber Orchestra, Turning Point Ensemble, Music on Main All-Star Band, The Colin MacDonald Pocket Orchestra, Viviane Houle---the festival played host to Italian singer Cristina Zavalloni, Amsterdam-based American violinist Monica Germino, Moscow's Rusquartet, and Italian pianist Andrea Rebaudengo.

The comprehensive festival featured fourteen Andriessen works, beginning with two involving film: M is for Man, Music, Mozart (1991) for jazz singer and ensemble with a film by Peter Greenaway, and Passeggiata in tram in America e ritorno (1998) for solo voice, amplified solo violin and ensemble with a film by Marijke van Warmerdam.

The Rusquartet played a concert dedicated to his string quartets: Quartet in Two Movements (1957), Facing Death (1990), influenced by the licks and sounds of Charlie 'Bird' Parker, Garden of Eros (2002), based on a long and beautiful love poem in 50 quatrains written by Jan Engelman in 1934, ...miserere... (2006/2007), and Stravinsky's string quartet arrangement of J. S Bach's BWV 869 — The Well-Tempered Clavier, Book 1: Prelude and Fugue No. 24 in B minor (completed by Andriessen in 2006).

Andriessen's exploration of physical matter, Zilver (1994), was heard alongside the music of Claude Vivier, whose inventive orchestrations and personal style have greatly inspired Andriessen over the past 20 years.
 
Andriessen put his personal touch on the festival on stage as pianist, performing an "improv cabaret" with singers Cristina Zavalloni and Viviane Houl, for whom he has written numerous pieces, including the lead role in his latest opera, La Commedia.

A number of Andriessen's chamber works contributed to the festivities, many as part of a "One Night Stand," with short concerts on the hour and a bar open between sets: XENIA (2005), written for solo violin with optional vocals in third movement, and  Le Voile de Bonheur (1966-71), for voice/violin (one performer) and piano; Trois pièces (1961) and Base (1994) for piano left-hand; Y Despues (1983) for voice and piano, and Letter from Cathy (2003) for voice and ensemble, from a personal letter in which Berio's wife, Cathy, tells of her meeting with Stravinsky.

The celebrations will continue throughout the coming year at the Canberra International Music Festival, Amsterdam's Holland Festival, Los Angeles's Disney Hall and New York's Carnegie Hall. Andriessen will spend his birthday (June 6) at home in Amsterdam with a full evening dedicated to his music, including the European premiere of The Hague Hacking (2008), performed by the Labèque sisters. DJ Spooky will put his own spin on Andriessen's music with a remix of De Stijl (1984-85) this summer at the Holland Festival and Casa de Musica. Andriessen will return to North America next season where he'll hold the Richard and Barbara Debs Composer's Chair at Carnegie Hall.

For further information on the birthday celebrations in Amsterdam click HERE and for further information on his Carnegie Hall residency click HERE.

Boosey & Hawkes Composer News