MacMillan's Gloria premiere for Coventry Cathedral's 50th
(May 2012)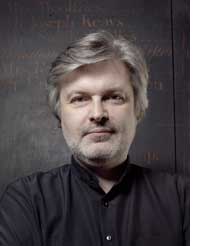 James MacMillan's new festal setting of the Gloria, to be premiered on 23 June, was commissioned by Coventry Cathedral for its Golden Jubilee celebrations.
The premiere of James MacMillan's new Gloria at Coventry Cathedral on 23 June, commemorates the 50th anniversary of the consecration of the new cathedral – a major symbol of rebirth for the city and nation after the bombing raids and destruction of the last war. The premiere is part of the 2012 Cultural Olympiad, and the work links with the 50th anniversary of Britten's War Requiem, first performed in the new Coventry Cathedral in 1962.

MacMillan, like Britten, has written for a leading tenor soloist of his time and the choral forces include the distinctive timbre of children's choir, used so effectively by the composer in such works as Quickening. The 20-minute Gloria is accompanied by organ, brass and timpani and the first performance features soloist Ian Bostridge with the composer conducting members of the City of Birmingham Symphony Orchestra, the Saint Michael's Singers and a children's choir drawn from Coventry schools.

The composer describes how his new Gloria "is in one continuous movement but has clearly discernible sections throughout. It begins in a declamatory manner with the soloist, reflecting liturgical practice. The first main section Et in terra pax is boisterous and joyful, with instrumental interjections. The second section Laudamus Te is fast and energetic. This is followed by a slow, reflective solo for the tenor, Domine Deus. The children's voices are then highlighted in Domine Fili in music that is simple and dance-like. However, a more mysterious accompaniment is later added by the organ, muted trumpets and sliding timps. A climactic instrumental outburst then leads to the final section Qui sedes ad dexteram Patris where the large choir sings quietly and unaccompanied. The opening bold music returns before the final Amen which features the solo voice and the children again."

> More on Coventry Cathedral's Golden Jubilee

Another major MacMillan choral premiere, his new 25-minute Credo for choir and orchestra, is scheduled for the BBC Proms at the Royal Albert Hall in London on 7 August. Performers include the Manchester Chamber Choir, Northern Sinfonia Chorus, Rushley Singers and the BBC Philharmonic conducted by Juanjo Mena.

> Further information on Work: Gloria
Photo: Philip Gatward

Boosey & Hawkes Composer News