MacMillan's Woman of the Apocalypse premiered at Cabrillo
(October 2012)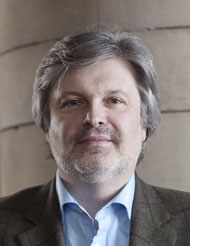 James MacMillan's new orchestral work, Woman of the Apocalypse, was premiered under the baton of Marin Alsop at the Cabrillo Festival in August.
James MacMillan's newest orchestral score is a large-scale fusion of symphonic poem and concerto for orchestra, entitled Woman of the Apocalypse. The work was commissioned for the Cabrillo Festival's 50th anniversary and the composer travelled to California for the premiere in August conducted by Marin Alsop.


The title refers to a female figure in Revelation whose exact identity has been open to a number of interpretations, including the Virgin Mary, the Mother of Jesus, and a matriarchal symbol for the Church. MacMillan describes his score as being "inspired by a range of visual art works on the topic through the ages, principally by Dürer, Rubens, Doré, Blake, Marvenko and others."


"MacMillan approaches his subject like a Mannerist painter, using the orchestra to stir up big, splashy swirls of instrumental color. The 30-minute piece unfolds in five connected movements that have a narrative structure of sorts, but the effect of the music depends less on the pictorial specifics than the verve and drama of MacMillan's writing." San Francisco Chronicle


"In his scoring for strings and brass, one seems to hear the melting of cosmic tears and the lumbering power of the dragon that assaults the Woman of the Apocalypse. Combining the severe and the ecstatic, the delicate and the demonic, the piece stretches in one movement across about 30 minutes, outlining five phases of the great battle." San Jose Mercury News


The first in a new series of MacMillan orchestral recordings has been released on Challenge Classics. The new disc includes the premiere recording of A Deep But Dazzling Darkness for violin and orchestra, Colin Currie as soloist in Veni, Veni, Emmanuel - the first recording of the percussion concerto conducted by the composer, and I (A Meditation on Iona) for chamber orchestra (Challenge Classics CC72540). The series features the Netherlands Radio Chamber Orchestra, and two further releases are scheduled, again conducted by MacMillan.
> Further information on Work: Woman of the Apocalypse
Photo: Philip Gatward

Boosey & Hawkes Composer News