Mackey's Slide comes into focus at Ojai Music Festival
(July 2009)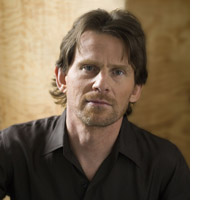 Steven Mackey's Slide comes into focus at Ojai Music Festival
Through a merging of rock and classical, "the stylistic sliding is ... powerful and impressive." LA Times

"…Few could deny the piece was musically and dramatically memorable." Ventura County Star

eighth blackbird performed the world premiere of Steven Mackey's Slide on Friday, June 12 at the Libbey Bowl as part of the 2009 Ojai Music Festival in Ojai, California. The new work, co-commissioned by the festival, featured the composer on electric guitar as well as librettist Rinde Eckert as actor and singer alongside eighth blackbird, who just began their year-long post as music director of the festival.

The 80-minute long piece is best described as a song cycle composed of 11 songs, with talking, miming and acting interwoven into the singing and instrumental playing. The title refers to a series of psychological experiments in which subjects were presented with out-of-focus images from slides, asked to identify the images which would then quickly come into focus. The psychologist conducting the experiments, Renard, came to the conclusion that the observers often drew from their own experiences in identifying the slides.

As well as serving as librettist and collaborator of the production, Eckert played the principle role of Renard, while Mackey, who "wailed on guitar and served as an effective narrator," (LA Times) proved to be of the centerpiece of the festival. The musicians of eighth blackbird acted both as members of a chamber group and as friends and family of Renard.

The piece was received with acclaim by concert-goers of Ojai and critics alike. Says Mark Swed of the Los Angeles Times, "Slide, in many ways, epitomized the kind of new musical world that eighth blackbird is ushering us into." Similarly, "the symbiosis between genres and styles that pervades this year's densely programmed festival for a multitasking generation is the essence of Slide," says Rita Moran of the Ventura County Star. Rinde's far-reaching vocal range, spanning from a baritone to a soprano, combined with Mackey's jarring arrhythmia, contributed to this symbiosis.

Mackey, whose "music equally includes subtle metric shifts and rhythmic intricacies found in sophisticated contemporary classical music," (LA Times) has future projects including two world premieres: Iconoclastic Episodes will be performed by the Irish Chamber Orchestra on October 29, 2009 in Limerick, Ireland before the U.S. premiere in Notre Dame, Indiana on November 8 by the same group; So Percussion will perform a new 25-minute percussion quartet commissioned by the group at Carnegie Hall on March 25, 2010.

 
> Further information on Work: Slide
Photo: Jane Richey

Boosey & Hawkes Composer News