Magnus Lindberg: Fresco premiere in Los Angeles
(October 1998)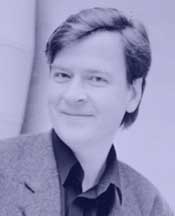 Magnus Lindberg's powerful new orchestral work, Fresco, stands as a fusion of two strands of thought that have successively proved central to the composer's output, namely primitivist experimentalism and classical modernism. The score was a commission from the Los Angeles Philharmonic, Lindberg's first from a major US orchestra, and was premiered on 12 March under the baton of his Finnish compatriot and friend Esa-Pekka Salonen.





The composer attended the series of Los Angeles performances, and also conducted a programme of ensemble works, played by members of the LA Philharmonic. Also in March, Salonen and the orchestra toured Fresco to New York, where it was performed at Avery Fisher Hall. European performances of Fresco are to include the Belgian premiere by the Royal Flanders Philharmonic Orchestra in April 1999, as part of the composer's recently announced two-year residency.





The title, Fresco, conjures up, like that of the work's orchestral predecessor Feria, sunny Mediterranean climes, specifically Italy with its great wall paintings. A clear analogy between art and music is suggested, where the sophisticated application of the material - paint in the case of a fresco - becomes fused with the rough plaster surface, which in turn is part of a larger architecture.


Lindberg's musical material for Fresco falls into two categories, which he describes as 'loud style' and 'soft style', referring to the two distinct types of gamelan ensembles for outdoor ceremonial purposes or for intimate indoor use. In terms of Lindberg's output the former represents works such as Kraft, Kinetics and UR which revel in an outgoing primitivism, whereas the latter represents his recent scores with their controlled and refined classicism such as Arena, Corrente and Feria. From a compositional viewpoint, the drama of Fresco is the opposition between 'loud style' and 'soft style', but what strikes the listener most forcibly is the sweep and continuous drive of the music through large architectural spans, and the composer's kaleidoscopic use of fluxing colour.


"Lindberg uses the orchestra as if it were one massive instrument full of ever-changing textures... It is the interplay of light and dark, of colours and textures, that commands attention. It is the orchestra as night sky, with more texture than we can ever penetrate." Los Angeles Times


"Lindberg raises orchestral colour to the level of line, rhythm, and counterpoint... Sonority modulates continually as would harmony in Wagner. Layers of timbre fall away and new ones are added, easing one episode smoothly into the next..." New York Times


"It's the sheer energy of Lindberg's music that hits you first off: dense clouds of sound, melodic lines circling one another in constant motion, driven onward by a remarkable variety of textures... I know that Lindberg is a major composer and that his visit here is a major event." Los Angeles Weekly


Magnus Lindberg's most recent score Campana in Aria, commissioned by the VARA Matinée series to launch the 1998 Holland Festival, was premiered on 6 June by the Netherlands Radio Philharmonic Orchestra under Esa-Pekka Salonen. A substantial concert-opener, written as a 40th birthday tribute to Salonen, Lindberg's work focuses on the distinctive timbre of the horn, with a solo part threading its way through the score, echoes sounding from the orchestral horns, and the colours resonating into the full orchestral texture. The exuberant nature of the work is captured in its title, the musical indication for the bell of the horn to be turned upward for increased aural impact and dramatic effect.


A selection of Lindberg's other recent orchestral works can be heard on a new recording from Ondine (ODE 911), including Feria, which was premiered at the Proms in 1997 and has since received 15 performances. The Times described how the new disc captured Feria's "explosive quality and raw, visceral power", while The Guardian noted how the work "shows how he has moved towards a style in which melodic ideas take on a much sharper identity; if it's still a bit early to talk of themes in his music, that seems to be the direction in which he is heading, though the fabulous ear for sonority and the sheer energy of the invention remain unaltered." A study score of Feria, the first publication under Lindberg's new contract with Boosey & Hawkes, is currently in preparation.


Lindberg's next orchestral work is again a US commission, this time for the Cleveland Orchestra under Christoph von Dohnányi, to be premiered on 29 March 1999 and toured to Carnegie Hall in New York. Also planned is a Cello Concerto for Anssi Karttunen, with a first performance by Salonen and the Orchestre de Paris scheduled for May 1999.
> Further information on Work: Fresco
Photo: FMIC

Boosey & Hawkes Composer News