Magnus Lindberg: new Era in Amsterdam and London
(May 2013)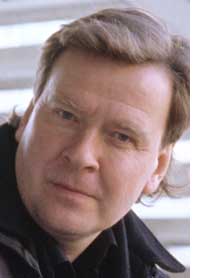 Magnus Lindberg's new orchestral work Era received its first performances in Amsterdam and London conducted by David Robertson and John Storgårds.


Commissioned to celebrate the 125th anniversary both of the Royal Concertgebouw Orchestra and its iconic concert hall, the premiere of Magnus Lindberg's Era formed part of a programme with musical works from 1913 by Berg, Zemlinsky and Stravinsky. The new score explores the musical currents around 1910, an era which saw the shift from lush Romanticism towards modernity, with particular sonic reference to Jugendstil Vienna and Parisian impressionism.


Era also provided a highlight in the BBC Symphony Orchestra's Total Immersion day at the Barbican devoted to Nordic music, with the Financial Times describing it as a "work that confirms his reputation as a master orchestrator". The Sunday Times commented on the "sheer profusiveness and brilliance of Lindberg's textures" and how the composer constructs a series of bourdons rising up from the deep register, in conscious recollection of Sibelius's Fourth Symphony:


"Lindberg's prodigious 15-minute essay… builds up from that apt reference (he is arguably the grandest Finnish composer since) one of his characteristic throbbing tutti continuums; with the difference, though, that tonality has come unmistakeably into play; as also, in line with the clipped title, have numerous intimations of other early-20th-century masters, notably Debussy."
Sunday Times


"…sinewy and rich… Era is a compelling piece brilliantly orchestrated (and brilliantly played here), packed with all-belonging incident… Certainly a piece to go back to, for there is much more to discover."
Classical Source


A new ensemble work is premiered at the Aldeburgh Festival on 22 June to complete a Lindberg triptych alongside Bubo bubo and Counter Phrases. Scored for two pianos, two percussionists and sinfonietta-sized ensemble, the three movements add up to a chamber symphony lasting 20 minutes. The new final movement was commissioned jointly by the Britten-Pears Foundation for the composer's centenary and the Royal Philharmonic Society for its bicentenary. Oliver Knussen, the dedicatee of Bubo bubo, conducts the premiere with the Birmingham Contemporary Music Group.
> Further information on Work: Era
Photo: Hanya Chlala/ArenaPAL

Boosey & Hawkes Composer News