Mallet Pieces by Rorem and Jenkins Featured on New Evelyn Glennie Album
(February 2021)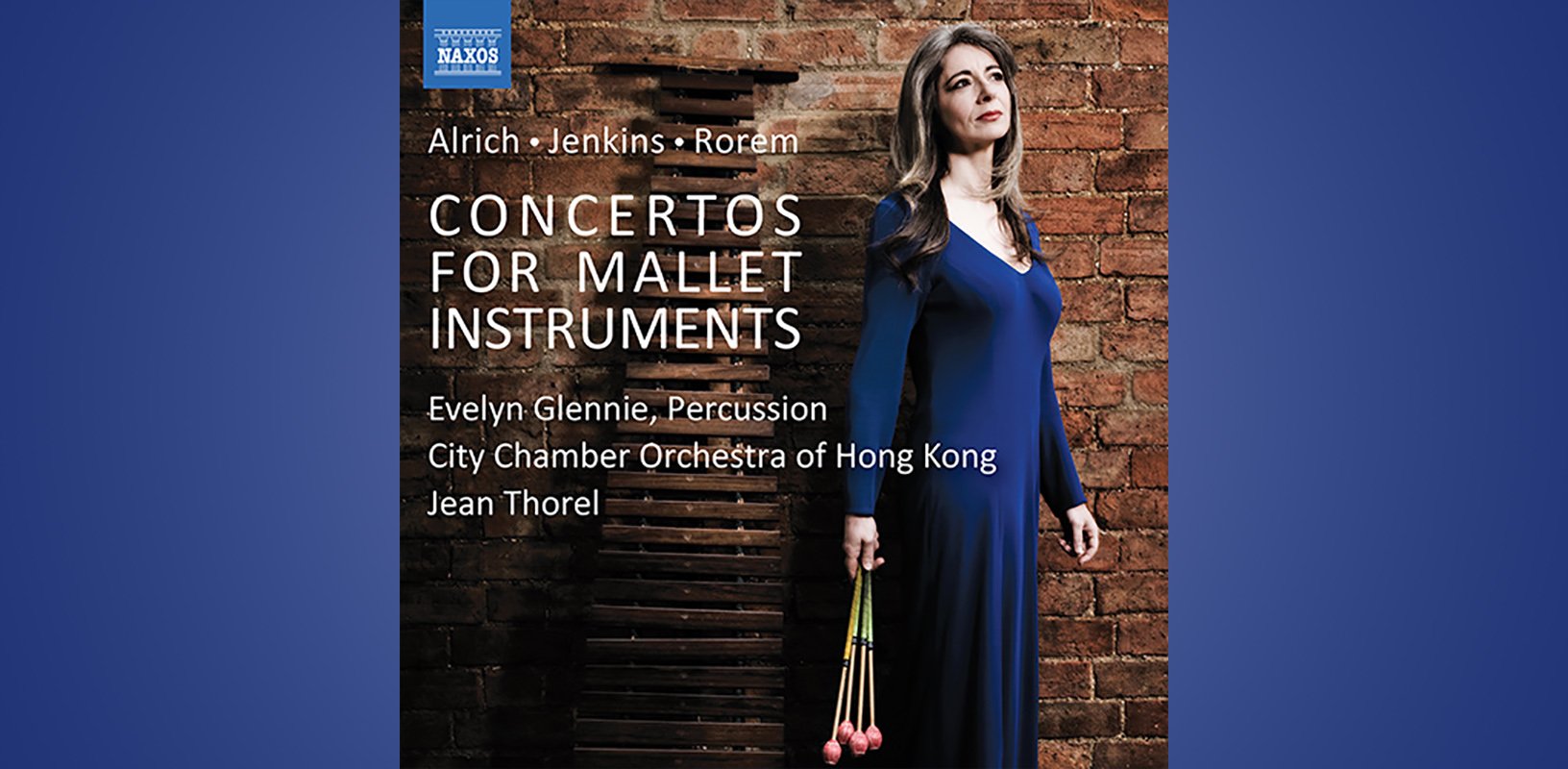 Concertos for Mallet Instruments is available now from Naxos, featuring Karl Jenkins' arrangement of La Folia and the world premiere recording of Ned Rorem's Mallet Concerto performed by percussion virtuoso Evelyn Glennie and City Chamber Orchestra of Hong Kong.
The new album from three-time GRAMMY Award-winning percussionist Evelyn Glennie and City Chamber Orchestra of Hong Kong, Concertos for Mallet Instruments, was released January 15 via Naxos, and features Ned Rorem's Mallet Concerto and Karl Jenkins's marimba and strings arrangement of Corelli's violin sonata, La Folia.
Written for Glennie, who premiered the piece in 2004, Rorem's Mallet Concerto shows off the composer's lyrical gifts, using only pitched mallet instruments and no percussion in the rest of the orchestra. Rorem explained in his program note that he feels non-pitched percussion is "superfluous, even in Beethoven." His focus in writing the piece was instead to see Glennie showcase the tunes and chords available to percussionists, rather than rhythm, the element one might expect to be most prominent in a percussion concerto. Each of the piece's seven movements sees Glennie playing one of four featured instruments: glockenspiel, marimba, xylophone, and vibraphone.
In the trailer for the album, Glennie expressed her continued love for the piece, stating: "Ned Rorem's Concerto for Mallet Instruments is beautifully lyrical. It's exposed and full of surprises. It's like a fine wine, and it matures and becomes more rich and special as time passes."
In their review of the album, Financial Times praised the piece, and Glennie's performance, writing: "The main attraction is the Mallet Concerto by Ned Rorem, written in 2003. Rorem is best known for his songs and his lyrical gift shines through in haunting wisps of melody. He packs a lot into half an hour and Glennie handles her four instruments — vibraphone, glockenspiel, marimba and xylophone — with virtuosic flair."
The Jenkins piece explores the well-known Baroque tune "La Folia" with an arrangement of Arcangelo Corelli's variations on the theme. One of many composers who was inspired by the popular melody, Corelli used the violin as the featured instrument in his variations. Jenkins puts a fresh spin on the piece with his arrangement for marimba and strings. Reviews of the album have praised the Jenkins work as well with Financial Times writing: "Karl Jenkins's La Folia for marimba and strings thoughtfully embellishes variations on a Baroque theme."
> Further information on Work: La Folia
> Further information on Work: Mallet Concerto

Boosey & Hawkes Composer News