Mark-Anthony Turnage: Mambo, Blues and Tarantella premiere
(August 2008)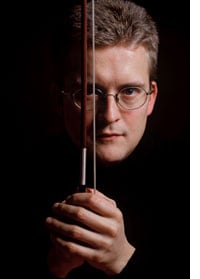 Mark-Anthony Turnage's new violin concerto for Christian Tetzlaff, Mambo, Blues and Tarantella, receives its world premiere at the Royal Festival Hall in London on 24 September. The performance is the latest of Turnage's collaborations with the London Philharmonic Orchestra as its Composer in Residence and the premiere is conducted by the orchestra's Principal Conductor Vladimir Jurowski.

Listen to an LPO Audio Podcast with Turnage talking about the new violin concerto.

Mambo, Blues and Tarantella was commissioned by the London Philharmonic Orchestra with support from the Michael Marks Charitable Trust, and by the Royal Stockholm Philharmonic Orchestra and Toronto Symphony Orchestra. Following the premiere in London, performances are planned with Tetzlaff in Stockholm (8/9 October) and Toronto (12/13/15 November).

Turnage's opening movement, Mambo, leads us onto the dance floor with a distinctly Latin flavour, while the central Blues offers some cool, reflective respite. The Tarantella was originally a manic dance, associated with the poisonous bite of a tarantula spider, and the final movement grows in dangerous energy as the frenzy gathers momentum.
> Further information on Work: Mambo, Blues and Tarantella
Photo: violinist Christian Tetzlaff (© Alexandra Vosding)

Boosey & Hawkes Composer News