Mark-Anthony Turnage: Speranza travels internationally
(March 2014)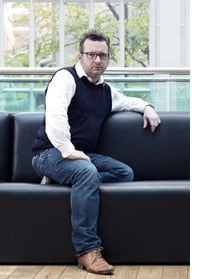 Mark-Anthony Turnage's orchestral magnum opus Speranza travels to Stockholm in May, following performances in London and Boston, and a CD release on LSO Live.
Following its premiere with the London Symphony Orchestra last February, Mark-Anthony Turnage's Speranza has been travelling with conductor Daniel Harding. The US premiere with the Boston Symphony Orchestra took place in October and the Swedish Radio Symphony Orchestra performs the score in Stockholm in May. The work has also been released on the LSO Live label, coupling the premiere performance with From the Wreckage featuring trumpeter Håkan Hardenberger.

Speranza is Turnage's most important orchestral score to date, as close to a symphony as any in his output. The four movements are titled by the Arabic, German, Gaelic and Hebrew words for 'hope', yet this optimism appears to be hard-won as if through a century of conflict. The work grew from reflections on the post-Holocaust poetry of Paul Celan, and the music is coloured by lamenting melodies – Palestinian, Jewish and Israeli – supplemented by the use of the Armenian dudak and Eastern European cimbalom. Other than the scherzo-like Irish-themed third movement the mood is brooding with a sequence of processions and variations illuminated by shafts of orchestral light.

"I can't remember the last time I was so moved by a premiere. Impressed, yes, awe-struck, thrilled, but Mark-Anthony Turnage's monumental Speranza is an act of prayer which goes straight to the heart… The very act of creation, for these resplendent forces, is an expression of hope, even if the tale it tells is tragic… The final Jewish melody blossoms into a majestic surge, pulling motifs from the work together."
BBC Music Magazine

"..the 40-minute Mahlerian symphony turns the idea of "hope" on its head. This is a sombre hymn to hopelessness, leavened by wistful folk laments and Turnage's masterly orchestration."
Financial Times

Other recent Turnage orchestral works include Frieze, performed by the New York Philharmonic in October, a Piano Concerto for Marc-André Hamelin and the Rotterdam Philharmonic, and Erskine for jazz drummer Peter Erskine and the Beethoven Orchestra in Bonn.
> Further information on Work: Speranza
Photo: Philip Gatward

Boosey & Hawkes Composer News