Mark-Anthony Turnage: interview about Hammered Out
(June 2010)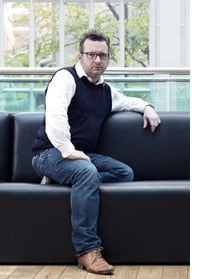 Mark-Anthony Turnage discusses his new orchestral work, Hammered Out, receiving first performances at the BBC Proms and by the Los Angeles Philharmonic.
What were the milestones in your development as an orchestral composer?


I had to jump in at the deep end with my first orchestral piece Night Dances. I was only 20 and studying with Oliver Knussen and as a wind player didn't know a lot about the other instruments. But you have to learn through listening and it was pretty clear what worked and what didn't. Then I trod water for a few years until I was appointed Composer in Association with the City of Birmingham Symphony Orchestra, which was my real training ground. Simon Rattle was very hands on and helped me enormously with my orchestration for the string section, for instance challenging me to be more adventurous in my writing for the violas, pointing me towards Nielsen.


Are there differences writing an orchestral commission as a one-off or as part of a composer residency?


If you have a residency you feel supported, and have more chance to make necessary changes. Even more important, though, is knowing the orchestra you're writing for, and this can influence the nature of the work. For instance the Chicago Symphony has an amazing blended sound, so this affected the tutti sections in Chicago Remains. Equally, different conductors prompt different approaches, and I've been fortunate working with figures like Bernard Haitink and Esa-Pekka Salonen. I really like the way the London Philharmonic plays Stravinsky under Vladimir Jurowski so this made the pieces for them become much more rhythmically based.


The title Hammered Out prompts percussive imagery. Is this single-minded as in Crying Out Loud, or do you balance this with your lyrical side?


This is a driven, obsessive work throughout – it's a Beethovenian idea of exploring just one thing as far as it can go, like in my piece Scherzoid. It is very motoric and the main middle section is underpinned by a regular 4/4 dance pattern, though not in a minimalist sense which I can't do. The percussive hammering comes from my interest in James Brown and '70s jazz funk, influences that can be heard right back in Blood on the Floor, but this is my most R&B work to date. The dance in the middle is almost like multitracking against a repeating rhythmic pattern, so it will be a real challenge to get tight playing, particularly from the brass, so things don't go awry.


How different is your hammering from the 'furious craftsmanship' of Le Marteau sans Maître?


Very different. I know Boulez said he was breaking from Western tradition with the Eastern instrumentation and 'progressive' modernist style, but it still sounds closer to the Classical-Romantic tradition than much of the music I'm interested in. I'm drawn more to what excited me when I was 17 or 18 – soul music and black gospel. So I'm even further now from the European avant-garde with its distant intellectualism. For instance the Boulez piece explores and elaborates surrealism, but I'm trying to be real, direct and up front.


Do you orchestrate your music, or is the orchestral colour there from the start?


This can differ from work to work. Here I composed the music in short score first, though even at this stage I knew some of the lines would be for wind or brass, and I could tell that the voicing of certain chords would work well on brass. Then, rather like taking a vocal score, I orchestrated it fully from beginning to end, almost turning it from black and white into colour.


What role does the orchestra play in your forthcoming opera Anna Nicole?


A danger in composing modern opera, and something I may have been guilty of in the past, is writing concert music for the stage rather than theatre music. I understand more in Anna Nicole that this doesn't work and the orchestra has to have a supporting role, largely to accompany the singers. I worked very hard with the librettist Richard Thomas to pare the music back before we reached the workshop phase, so that everything could be stage led. There are no long scene changes with orchestral interludes as it is a fast, mainly comic work. The orchestration can help paint local colour and character – for instance I use a drummer and jazz trio so I can provide Anna with hints of her Texan roots, but I've avoided doing the whole Country & Western thing. The orchestra also plays a greater role towards the end of the opera when we move from comedy to something much darker.


Interviewed by David Allenby, 2010


Turnage
Hammered Out (2009-10) 15'
for orchestra


26 August (world premiere)
BBC Proms, Royal Albert Hall, London
BBC Symphony Orchestra/David Robertson
> BBC Proms website


13/14 November (US premiere)
Disney Concert Hall, Los Angeles
Los Angeles Philharmonic Orchestra/Susanna Mälkki
> Los Angeles Philharmonic website


For other events in Turnage's 50th birthday year visit www.boosey.com/turnage


Anna Nicole is premiered at The Royal Opera in London on 17 February 2011, directed by Richard Jones and conducted by Antonio Pappano.

> Further information on Work: Hammered Out
Photo: Philip Gatward

Boosey & Hawkes Composer News