Mark-Anthony Turnage: premiere of Refugee for tenor and chamber orchestra
(August 2019)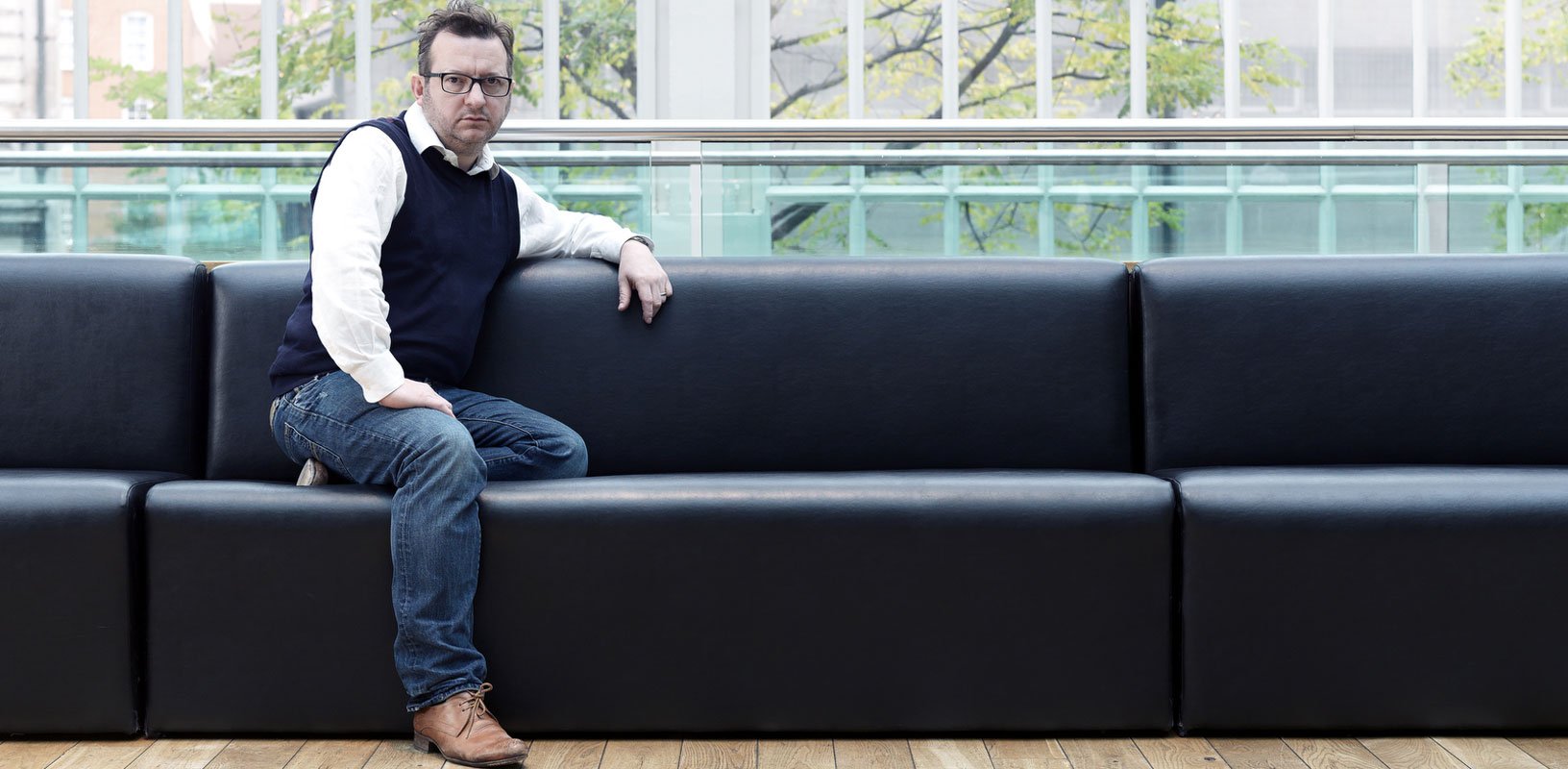 With the migration crisis ever present, Mark-Anthony Turnage gives voice to those seeking refuge in his new song cycle for Allan Clayton and the Britten Sinfonia.
How did the idea of setting poetry about refugees come about?
In 2015, when I was first thinking about a new piece for voice and chamber orchestra, the issue was dominating the news, with mass migration from war zones and desperate people seeking refuge. It seemed the right time to put refugees at the centre of a piece: I realised it wouldn't change anything but I wanted to show solidarity with the refugees.
How important is it to keep the issue on the news agenda?
I hope the performances at the George Enescu Festival in Bucharest and the Barbican in London help remind people, even in a small way, as we've been heading in the wrong direction recently with increasing racism, anti-Semitism and Trump. The trigger for my piece was the photo of the drowned three-year-old Syrian boy on a Turkish beach. People were rightly shocked at the time and we need to feel the same outrage again today.
You've often felt yourself to be an outsider. Is that relevant here?
There was hardship in my family when I was growing up near Tilbury and that had a massive effect on my worldview. My background didn't bring a lot of money or education and I was increasingly aware of the poverty around me. When I studied at music college in London I did feel apart, just as Maxwell Davies and Birtwistle did in Manchester. I see myself like the writer Dennis Potter who always viewed himself as an outsider and estranged from the Establishment. Some might laugh looking at me now but you never lose that sympathy for people struggling to build their lives in challenging situations. And you can see this in my choice of subject matter.
How did you make your selection of poetry?
I was already aware of the Auden poem Refugee Blues which describes the wartime plight of Jewish migrants arriving in New York and the indifference they see around them. My researches started there but I was a little surprised that there wasn't a wider range of options on the refugee theme. It was great to discover the short Dickinson poem about strangers in a foreign world, written 150 years ago, and I shortlisted texts by contemporary writers including Benjamin Zephaniah and Brian Bilston.
Once you've collected the texts, how do you shape the piece?
I've often built pieces from poems on particular themes, such as Twice Through the Heart on domestic violence, various settings of war poetry, A Constant Obsession on aspects of love, or Testament on Ukrainian nationalist texts. The final ordering is something of a puzzle, and there may be movements that are juggled or don't make the final cut as Britten often used to find. I'm usually ahead on my commission schedule, so this allows time for the piece to gestate, and I'll return and make any necessary adjustments. The crucial things are contrast and tempi, so here the Dickinson is like an opening upbeat, followed by the Zephaniah which is more lyrical and less 'brassy', then the Auden which is rhythmic and driving, and an interlude leading to the final Bilston setting which I hope is a powerfully compassionate close.
How do you use moods and instrumentation to colour the subject matter?
In recent years I've tried to establish a mood throughout a movement, with a fairly limited range of motivic material which is worked hard – I guess Beethoven could be a model here. I try to avoid getting distracted by localised word-painting, such as descriptive instrumentation or rise and fall of melodic lines mirroring the text, though some of this inevitably creeps in subconsciously. The unity of the melodic and harmonic ingredients is the key thing I focus on.
The work ends with Brian Bilston's Refugees, which can be read from top to bottom, or bottom to top, with shockingly different viewpoints. Do you see any middle route being possible?
Not for me. A middle course leads to appeasement and Hitlerian regimes. You have to battle for what you view as the true and tolerant side of the argument concerning migration and refugees. I march for what I believe in, when necessary. I can understand why some people feel threatened, but this is often because they themselves want to escape poverty and do not realise they are being duped. We have to explain that everyone is born equal and offer the same opportunities to all. That should be the fundamental aim of humanity.
Interviewed by David Allenby (2019)
Mark-Anthony Turnage
Refugee (2018) 25'
for tenor and chamber orchestra
Texts: Emily Dickinson, Benjamin Zephaniah, W.H. Auden, Brian Bilston (E)
Allan Clayton, tenor
Britten Sinfonia conducted by Andrew Gourlay
19 September 2019 (world premiere)
George Enescu Festival, Radio Hall, Bucharest
20 September 2019 (UK premiere)
Milton Court, Barbican, London
> Further information on Work: Refugee
Photo: Philip Gatward

Boosey & Hawkes Composer News