Mark Anthony Turnage: premiere of orchestral Speranza
(May 2013)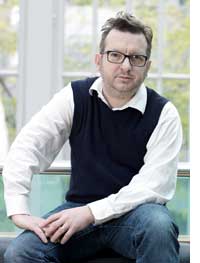 Mark-Anthony Turnage's new large-scale orchestral work, Speranza, made a powerful impression at its premiere in London.
"This is Turnage's Tragic Symphony – Mahlerian in scale, orchestration and mixture of cosmic and quotidian." So wrote the Financial Times of Mark-Anthony Turnage's Speranza, premiered by the London Symphony Orchestra and Daniel Harding as the culmination of a composer residency in February. The review describes how the music is imbued with Arab and Jewish folksong and "demonstrates the 52-year-old composer's mastery of orchestration… Speranza represents a formidable achievement of imagination and organisation, and gives audience and musicians plenty to get their teeth into…"

"…imaginatively and even profligately coloured, with prominent roles for the exotically reedy Armenian duduk (a relative of the oboe) and for the brittle sound of the cimbalom. It is a linear, at times almost traditionally symphonic work, with motifs and episodes exchanged and even occasionally developed in writing of considerable discipline. The concept of hope is explicitly woven into the score by the composer. Each movement – and the whole – is identified by the single word "hope"… Yet, although it starts amid great urgency and ends quietly, there is little sense of a journey from darkness to light.

"All this adds up to a challenge to the listener to engage with what Turnage means by hope. There is nothing easy about the idea as it is conveyed here. Turnage's musical ideas survive, rather than resolve. Hollow optimism in the Shostakovich manner is in short supply, as is Beethovenian celebration. Increasingly, it seemed Turnage's idea of hope is embodied in the writing and performing of music, rather than in any external programme or narrative imposed upon it."
The Guardian

"…a monument to the power of optimism in a bleak world."
Time Out

Speranza was commissioned by the London Symphony Orchestra, Boston Symphony Orchestra and Swedish Radio Symphony Orchestra, with Daniel Harding set to conduct the US premiere on 24 October and the Swedish first performance on 15 May 2014.
> Further information on Work: Speranza
Photo: Philip Gatward

Boosey & Hawkes Composer News