Mark-Anthony Turnage: reviews of new Strapless ballet
(May 2016)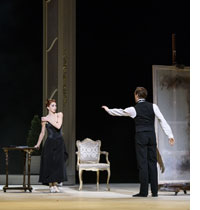 February brought the world premiere of Strapless, a new art-inspired ballet score by Mark-Anthony Turnage, choreographed by Christopher Wheeldon at the Royal Ballet in London
<DIR=LTR align="left">Mark-Anthony Turnage's fourth ballet score, Strapless, was unveiled by the Royal Ballet in London in February, seeing the composer working again with choreographer Christopher Wheeldon, following the success of their Titian-inspired ballet Trespass in 2012. Art was once more the centre of focus in the new 45-minute one-act narrative dancework, examining the rise and fall of celebrity status, as in Turnage's opera Anna Nicole. Strapless will return to Covent Garden next season and will travel to Moscow thanks to co-producers the Bolshoi Ballet.

"Strapless, inspired by Deborah Davis's book of the same name, recounts the social ascent of the glamorous New Orleans-born Amélie Gautreau in Belle Époque Paris, and her fall from grace when 'Madame X', John Singer Sargent's revealing painting of her with a strap falling down a bare arm, is shown at the 1884 Paris Salon. It fascinates as a tale of ambition, social mores, hypocrisy and humiliation…"
New York Times

"…Sargent's portrait caused a sensation at the Paris Salon of 1884. The reason was not the brilliancy of Sargent's art but rather the hints of erotic promise in Mme Gautreau's pose: the provocative figure turning away from the viewer in her black dress, one shoulder-strap fallen off. In the stuffy confines of the Parisian haute bourgeoisie — Proust's world — Mme Gautreau's reputation as the wife of a successful banker (one twice her age) was destroyed."
Financial Times

"Strapless is a superb piece of stagecraft… Paris in the 1880s is vividly evoked throughout: in the clash and colour of Mark-Anthony Turnage's score, in the sets and costumes, and in the small character detail… Amélie – danced with a marvellous air of careless entitlement by Natalia Osipova – is a blatantly amoral heroine."
The Guardian

"…richly textured and full of orchestral colour…"
The Independent

The 2016/17 season sees Turnage's long-standing musical relationship with Simon Rattle continuing with performances of Remembering with the London Symphony Orchestra and Berlin Philharmonic in early 2017. The Barbican feature on Turnage also includes the UK premiere of Håkan written for the eponymous Swedish trumpeter with the LSO and Daniel Harding.

Overseas premieres include HIBIKI commissioned for the 30th anniversary of Suntory Hall in Tokyo in November, scored for two solo voices, children's chorus and orchestra. A new Turnage string quartet Shroud, commissioned by a consortium including the Chamber Music Society of Lincoln Center for the Emerson String Quartet, will be toured internationally following its premiere in October.
> Further information on Work: Strapless
Photo: Natalia Osipova and Edward Watson in Strapless (Royal Ballet/Bill Cooper)

Boosey & Hawkes Composer News