Mark Simpson: The Immortal reaches to the beyond
(September 2015)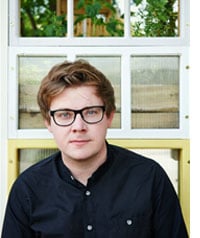 The Immortal, Mark Simpson's new oratorio, enjoyed a highly successful premiere at the Manchester International Festival in July.
"Mark Simpson's oratorio The Immortal is the most thrilling new choral work I have heard for years. At 26, what a prospect he is." So wrote The Times reviewing the world premiere of Simpson's new 35-minute work commissioned by the Manchester International Festival and premiered in July. This is the largest-scale score to date by the young British composer and signalled the launch of his four-year residency with the BBC Philharmonic. The work was created with librettist Melanie Challenger, with support from the MIF Commissioning Circle and Sky Arts Academy Scholarship in association with IdeasTap.

"The Immortal delves into the creepy Late Victorian world of seances, as revealed by John Gray's book The Immortalization Commission – particularly the strange events at the start of the 20th century when mediums in different countries began writing down communications from the recently deceased psychical researcher Frederic Myers. He guarded an awful secret throughout his life: his love for a young married woman who had cut her throat and then drowned herself.

"Challenger's stream-of-consciousness libretto weaves together the anguished 'automated' ramblings supposedly dictated posthumously by Myers with elliptical details of this tragic affair. However, Simpson's multi-layered, swirling score, superbly realised by the BBC Philharmonic under Juanjo Mena, transcends these specifics to evoke the philosophical turmoil of humanity in general as we cling to such concepts as love, soul and immortality when the cold materialism of modern science suggests that such things are tricks of the sentimental mind."
The Times

"…a blazingly original oratorio… If the purpose of art is to pose existential questions, then the piece is concerned with what might be the most fundamental question of all: is anybody there? The paranormal effects Simpson conjures from the expansive forces are genuinely eerie. The vocalists of Exaudi intone and moan screeds of largely indecipherable automatic writing while baritone Mark Stone exhorts Myers' anxieties on the passage from life to death in tones of blackest despair. He is buffeted through the choral maelstrom like a sceptical anti-Gerontius, who, instead of being eased towards purgatory by a team of spiritual assistants, sends panicked, fragmentary transmissions indicating terror at the lack of a welcoming committee."
The Guardian

Simpson's orchestra concert-opener Israfel was premiered earlier this year by the BBC Scottish Symphony Orchestra under Andrew Litton, and next year brings the premiere of his first opera, Pleasure. The cast of singers is led by soprano Lesley Garrett, with ensemble provided by Psappha conducted by Nicholas Kok. The Opera North production opens in Leeds on 28 April, touring over the following month to the Liverpool Playhouse and the Britten Studio in Snape, concluding with a run presented by The Royal Opera House at the Lyric Hammersmith in London.
> Further information on Work: The Immortal
Photo: Kaupo Kikkas

Boosey & Hawkes Composer News